Founded on a legacy of innovation
People who are passionate about public policy know that the Province of Saskatchewan has pioneered some of Canada's major policy innovations. It has also supplied the country with many distinguished public servants who have gone on to lead remarkable careers in the federal civil service.
Earning the label, "the Greatest Generation," Albert Johnson and Thomas Shoyama became part of a group of modernizers who saw government as a positive catalyst of change in post-war Canada. Using their practical and theoretical knowledge, Johnson and Shoyama both challenged existing policies and practices to explore new ways of meeting the changing needs of Canadians. In doing so, they created a legacy of achievement and established a standard for professionalism in the civil service that remains a continuing inspiration for public servants in Saskatchewan and across the country.
The JSGS is proud to carry on this tradition.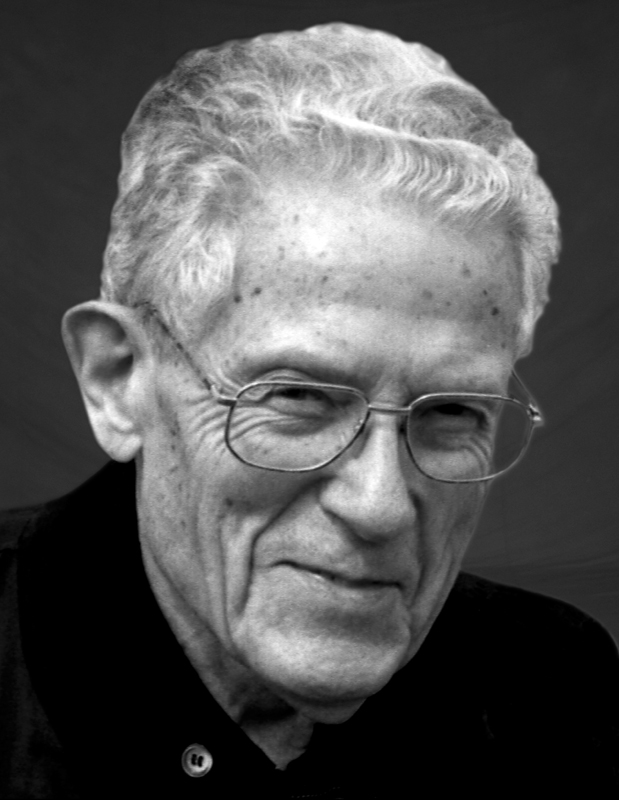 Born in Insinger, Saskatchewan (October 18, 1923 - November 8, 2010), Albert W. Johnson studied at the Universities of Saskatchewan and Toronto, where he received degrees in political economy.  From Toronto, Johnson was recruited to the Saskatchewan public service by the Adult Education Division. Twelve months later, he was appointed to the newly created Budget Bureau. In 1949, Johnson was made responsible for advising on machinery of government and management processes. He later attended Harvard University, in what is now the Kennedy School of Government, first taking a master's degree as a Littauer Fellow in 1950 and then in 1957-58 for a doctoral degree in political economy. In 1952, at the young age of 28, he was appointed Deputy Provincial Treasurer, a role in which he served for the next twelve years.
In 1964, Johnson left Saskatchewan for the Government of Canada, appointed as Assistant Deputy Minister of Finance responsible for federal-provincial fiscal relations, playing a key role in the introduction of national Medicare, development of a federal revenue equalization system, and the design of a federal college and university grant system.
In 1968, he was appointed as Prime Minister Trudeau's Economic Advisor on the Constitution and in 1970 was appointed Secretary of the Treasury Board. In 1973, he became the Deputy Minister of National Welfare. Two years later, Prime Minister Trudeau appointed Johnson to the presidency of the Canadian Broadcasting Corporation, where he endeavoured to increase the quality, quantity, and exposure of Canadian programming.
At his 1982 retirement, Johnson was appointed Professor of Political Science at the University of Toronto and to short-term research chairs at Queen's University and at the Canadian Centre for Management and Development. During the 1990s, he directed a major governance program to assist in the establishment of a multi-racial democracy in South Africa.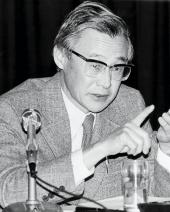 Thomas Shoyama (September 24, 1916 - December 22, 2006) was born in Kamloops, BC. He graduated from the University of British Columbia with Bachelor of Arts and Commerce degrees in 1938.  From 1939-45, "Tommy" served as Editor of the New Canadian, a weekly civil rights newspaper that he continued to publish from an internment camp in Kaslo, BC. In 1946, he joined the Government of Saskatchewan. Working for George Cadbury and T. H. McLeod, Shoyama was hired as a Research Economist within the newly established Economic and Planning Board.
His first tasks included working on public hospital insurance, systems for administering Crown Corporations, and an economic development plan for the province's natural resources. In 1950, he became Cabinet's Chief Economic Advisor, Secretary to the EAPB, and T. C. Douglas's closest policy advisor. Shortly after the election in 1964, Shoyama became a Senior Research Economist with Economic Council of Canada. In 1968, he became Assistant Deputy Minister of Finance, and by 1975, after a term as Deputy Minister of Energy, Mines and Resources, he was appointed Deputy Minister of Finance.
Retiring in 1979, Shoyama moved to Victoria and joined the School of Public Administration at the University of Victoria. His profound and abiding commitment to public service has been recognized through several national awards, including Officer of the Order of Canada (1978) and the Outstanding Achievement Award in the Public Service of Canada (1978) from the Institute of Public Administration of Canada. In 1992, the Government of Japan awarded Shoyama the Order of Sacred Treasure in recognition of his contributions to the Japanese-Canadian community.
Building a better Canada
Today, the Johnson Shoyama Graduate School offers six graduate programs, six master's certificates and a wealth of executive and board education options. Reflective of the needs of the Public Service of Canada, and its provincial and municipal partners, the school's curriculum provides students with opportunities to gain knowledge in core competency areas and exercise their cutting-edge thinking and problem-solving skills, while looking at issues that touch all aspects of their daily lives.
In addition to their rigorous classroom contributions, JSGS faculty members are devoted to their research and writing in order to make an impact on issues affecting Canadians and the global community.  Working together and alongside colleagues in the public service and industry, our faculty have made great research strides in a number of critical areas related to innovation, science and technology policy, social policy and inequality, and governance. Together, they enrich the knowledge base from which policymakers draw in order to refine and develop policies and programs that positively impact the needs of Canadians.
To support the exchange of ideas, the school also collaborates with various partners on organizing public lectures, symposia and large-scale multi-speaker conferences. Past conferences have ranged in topics from the future of electricity in Western Canada, to the best interests of children, to the constitutional monarchy in Canada.