About the EDI Discussion Series
Creating a diverse, inclusive and equitable public sector—where all employees feel represented, respected, and supported—is necessary to support the needs of Canada's changing demographics. This EDI Discussion Series explores how governments can actively work to support marginalized communities and break down system barriers.
Governments in Canada have a pressing need to develop and implement sustainable and forward-thinking strategies and programs that support diversity and inclusivity in their hiring and promotions, actively combat against discrimination and harassment in the workplace, and provide employees with a sense of support, respect, and value. A public service that is truly representative of Canada's diverse populations is better positioned to understand citizens' needs, develop citizen-centred solutions, and provide relevant and impactful services. Some progress has been made to diversify Canada's public service and to create a more inclusive and equitable work environment. However, discrimination, harassment, and systemic barriers still exist. This is a pressing matter, and we need to listen to and learn from those with lived experience to gain perspective on how to move forward.
To contribute to this important discussion and educate current and future public servants, the Johnson Shoyama Graduate School of Public Policy (JSGS)—in consultation with its EDI Champions—has launched a Discussion Series focused on equity, diversity, and inclusion in the public sector. 
The JSGS EDI Discussion Series:
Features speakers from marginalized groups to share their lived experiences and recommendations on how the public sector can take action to address barriers in ending all forms of discrimination and oppression;
Encourages dialogue on the importance of equity, diversity, and inclusion in the public service as a means to effectively support governments and serve all Canadians; 
Increases community awareness for how EDI relates to public policy and public service;
Frames the role of the public servant through an EDI lens (when developing policies and programs); 
Identifies where gaps exist in current public sector practices and procedures, and helps inform future directions; 
Encourages dialogue on sustainable change to address systemic barriers faced by underrepresented groups in public policy and public administration; and
Challenges biases, creates open dialogue to combat racism, and identifies how those from marginalized groups can feel empowered to speak up. 
Upcoming EDI Discussion Series Events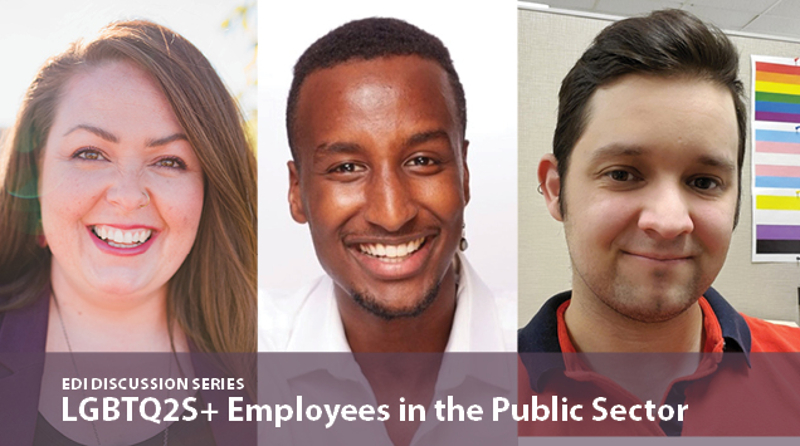 Working in the public sector can provide many opportunities and advantages for employees—job security, career advancement, and the opportunity to serve the public and make change in your community. What strategies, policies, or leadership is needed to make the public service a good sector to work in for members of the LGBTQ2S+ community?
Moderated by Dr. Cheryl Camillo (she/her), JSGS Assistant Professor and former Public Policy Advocate for the Human Rights Campaign, this panel will include:
Krystal Nieckar (she/her), Executive Director with OUT Saskatoon, is a white queer woman born and raised in a rural Saskatchewan town on Treaty 4 Territory. She is passionate about advocacy, front-line support, and working with the community.
Tyler Boyce (he/him) is the Executive Director with The Enchanté Network, a national network connecting, supporting, and advocating for nearly 200 2SLGBGTQI+ organizations, including pride centres and 2 Spirit societies. Tyler is a Kenyan and Somali Black queer public policy professional and community organizer with nine years of advocacy and leadership experience and a deep grounding in social justice, particularly as it is informed by Black queer feminist thought.
Malin Rozon (they/them), Education Chair with the Government of Saskatchewan Pride Alliance Network, is proudly nonbinary, trans and queer; they are engaged in gender affirming education, advocacy, and peer mentorship. Malin was a key contributor and editor for the Gender Transition Guidelines recently released by the Government of Saskatchewan for employees.
For more information about this event, please contact jsgs.events@uregina.ca.
June 1, 2022 |  12:00 - 1:30 p.m. (CST)
Delivered by Zoom.
The EDI Discussion Series is proudly supported by the Max Bell Foundation.