About the EDI Discussion Series
Creating a diverse, inclusive and equitable public sector—where all employees feel represented, respected, and supported—is necessary to support the needs of Canada's changing demographics. This EDI Discussion Series explores how governments can actively work to support marginalized communities and break down system barriers.
Governments in Canada have a pressing need to develop and implement sustainable and forward-thinking strategies and programs that support diversity and inclusivity in their hiring and promotions, actively combat discrimination and harassment in the workplace, and provide employees with a sense of support, respect, and value. A public service that is truly representative of Canada's diverse populations is better positioned to understand citizens' needs, develop citizen-centred solutions, and provide relevant and impactful services. Some progress has been made to diversify Canada's public service and create a more inclusive and equitable work environment. However, discrimination, harassment, and systemic barriers still exist. This is a pressing matter, and we need to listen to and learn from those with lived experience to gain perspective on how to move forward.
To contribute to this important discussion and educate current and future public servants, the Johnson Shoyama Graduate School of Public Policy (JSGS)—in consultation with its EDI Champions—has launched a Discussion Series focused on equity, diversity, and inclusion in the public sector. 
The JSGS EDI Discussion Series:
Features speakers from marginalized groups to share their lived experiences and recommendations on how the public sector can take action to address barriers in ending all forms of discrimination and oppression;
Encourages dialogue on the importance of equity, diversity, and inclusion in the public service as a means to effectively support governments and serve all Canadians; 
Increases community awareness of how EDI relates to public policy and public service;
Frames the role of the public servant through an EDI lens (when developing policies and programs); 
Identifies where gaps exist in current public sector practices and procedures and help inform future directions; 
Encourages dialogue on sustainable change to address systemic barriers faced by underrepresented groups in public policy and public administration; and
Challenges biases, creates open dialogue to combat racism and identifies how those from marginalized groups can feel empowered to speak up. 
Are you interested in supporting JSGS students from diverse backgrounds, including those who identify as First Nations, Métis, or Inuit? Please consider giving to our Dan Perrins Public Policy Award.
Upcoming EDI Discussion Series Events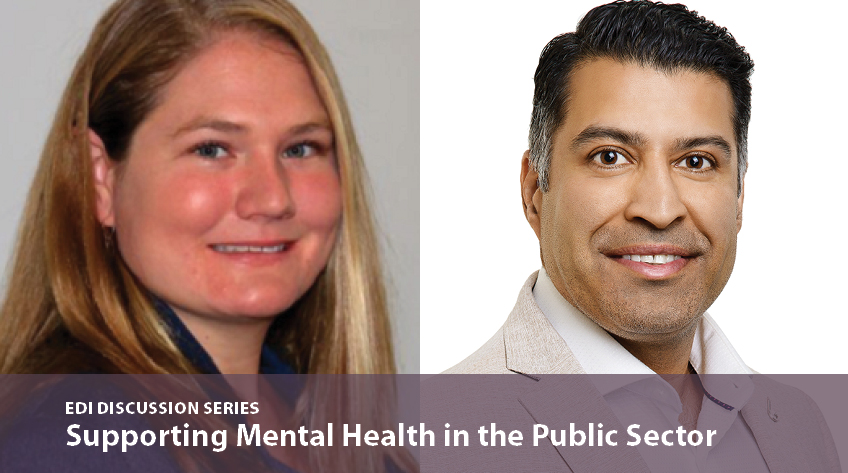 Public sector employers agree that supporting employee mental health should be a priority, but the intent and actions can sometimes be worlds apart. Join us as we discuss how employers can make mental health support for employees a priority, work to promote positive mental health in the workplace and look at what types of strategies can be implemented to remove the stigma and support those seeking mental health support.
Moderated by Jamie Mayoh-Bauche (she/her), JSGS Instructional Designer. this event will feature commentary from:
Lindsay Coffin (she/her), Interim Associate Director of Human Capital at the Conference Board of Canada. Ms. Coffin has been involved with several projects aimed at understanding human capital trends and the evolving workplace.
Kabir Bhagaria (he/him), Senior Manager, Employee Health and Safety, First West Credit Union. Passionate about employee health and keenly interested in psychological safety, Mr. Bhagaria has had the privilege of working for several large organizations where he established employee health programs and launched various initiatives.
Date: January 25, 2023
Time: 12:00 - 1:30 p.m. (CST-SK)
Location: Delivered over Zoom.
The EDI Discussion Series is proudly supported by the Max Bell Foundation.