About the EDI Discussion Series
Creating a diverse, inclusive and equitable public sector—where all employees feel represented, respected, and supported—is necessary to support the needs of Canada's changing demographics. This EDI Discussion Series explores how governments can actively work to support marginalized communities and break down system barriers.
Governments in Canada have a pressing need to develop and implement sustainable and forward-thinking strategies and programs that support diversity and inclusivity in their hiring and promotions, actively combat against discrimination and harassment in the workplace, and provide employees with a sense of support, respect, and value. A public service that is truly representative of Canada's diverse populations is better positioned to understand citizens' needs, develop citizen-centred solutions, and provide relevant and impactful services. Some progress has been made to diversify Canada's public service and to create a more inclusive and equitable work environment. However, discrimination, harassment, and systemic barriers still exist. This is a pressing matter, and we need to listen to and learn from those with lived experience to gain perspective on how to move forward.
To contribute to this important discussion and educate current and future public servants, the Johnson Shoyama Graduate School of Public Policy (JSGS)—in consultation with its EDI Champions—has launched a Discussion Series focused on equity, diversity, and inclusion in the public sector. 
The JSGS EDI Discussion Series:
Features speakers from marginalized groups to share their lived experiences and recommendations on how the public sector can take action to address barriers in ending all forms of discrimination and oppression;
Encourages dialogue on the importance of equity, diversity, and inclusion in the public service as a means to effectively support governments and serve all Canadians; 
Increases community awareness for how EDI relates to public policy and public service;
Frames the role of the public servant through an EDI lens (when developing policies and programs); 
Identifies where gaps exist in current public sector practices and procedures, and helps inform future directions; 
Encourages dialogue on sustainable change to address systemic barriers faced by underrepresented groups in public policy and public administration; and
Challenges biases, creates open dialogue to combat racism, and identifies how those from marginalized groups can feel empowered to speak up. 
Upcoming EDI Discussion Series Events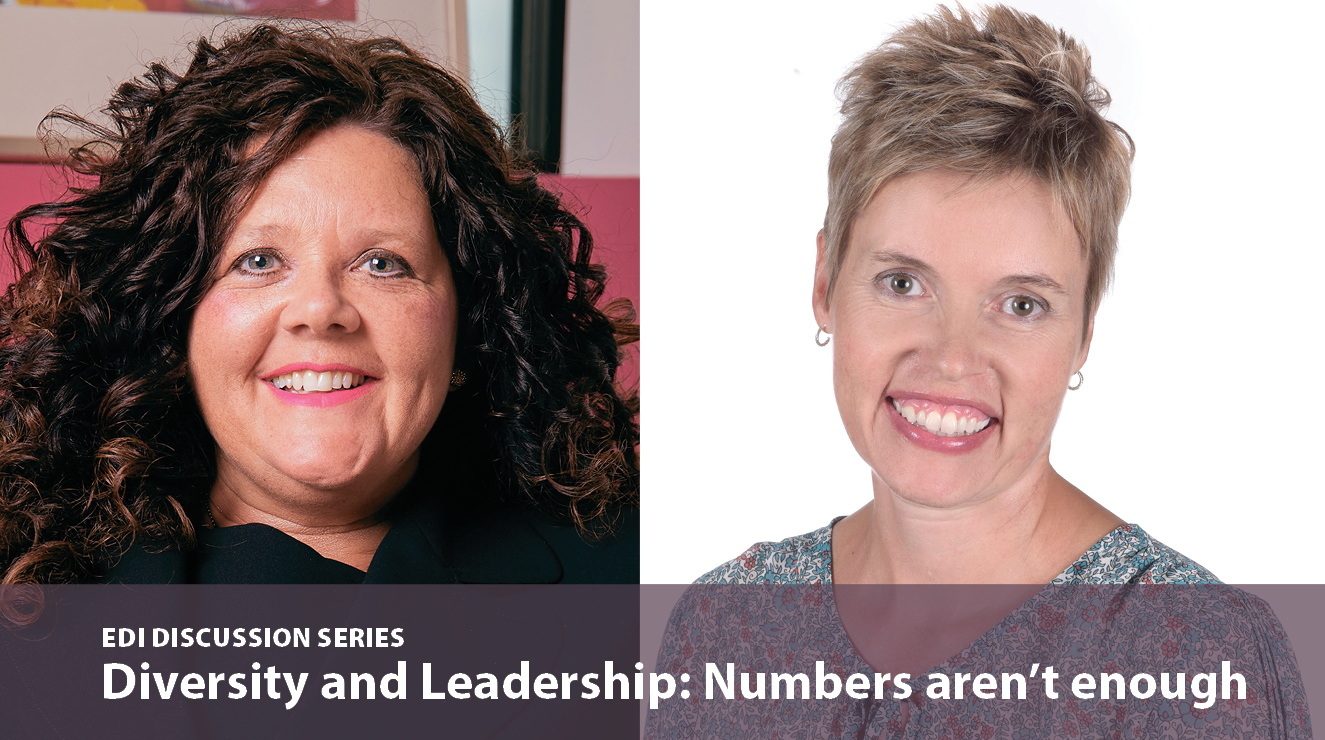 Why does diversity and inclusion matter in leadership? How is the public sector performing in terms of diversity representation? What competencies do leaders need? How can inclusive leaders cultivate a positive organizational culture and add value?
This event is held in collaboration with the Hill|Levene Schools of Business and the Edwards School of Business, and will feature 
Dr. Gina Grandy (PhD) is a professor of strategy and leadership, dean at the Hill and Levene Schools of Business at the University of Regina, and the lead for the Women Entrepreneurship Knowledge Hub in Saskatchewan. Her research on leadership, gender and women's experiences at work, and stigmatized work has been published widely. Gina is active in the community with various initiatives and bodies that work to advance opportunities for equity deserving groups.
Lorelei Nickel (MBA) is a faculty lecturer in the Edwards School of Business at the University of Saskatchewan (USask), where her primary teaching emphasis is on ethics and strategic decision making. She is also a member of the Edwards EDI Collective and a champion of EDI at USask. In the community, Lorelei currently serves as the board chair for the Global Gathering Place, a newcomer settlement agency in Saskatoon. 
Wednesday, November 24, 2021 | 12:00 - 01:30 PM (CST) 
Delivered over Zoom.
For any inquiries, please contact: jsgs.events@uregina.ca. 
Past Speakers
On September 30, citizens from across Canada will observe the first National Day for Truth and Reconciliation—a day to recognize and commemorate the legacy of residential schools—and will be wearing orange in honour of Orange Shirt Day. As public servants and citizens, have you committed to responding to the Truth and Reconciliation's Calls to Action? Join us by listening and learning about the importance of this day and the need for reconciliation in the public sector.
Moderated by JSGS Executive-in-Residence Merelda Fiddler-Potter, this EDI Discussion Series event featured His Honour the Honourable Russ Mirasty.
His Honour the Honourable Russ Mirasty, S.O.M., M.S.M., became Saskatchewan's 23rd Lieutenant Governor in July of 2019. He is the first Indigenous person to serve in this role. Born and raised in La Ronge, Saskatchewan, His Honour is a member of the Lac La Ronge Indian Band and is fluent in Cree. He joined the Royal Canadian Mounted Police (RCMP) in 1976, and was posted to 7 provinces, performed duties in every province and territory, and participated in an exchange with Northern Territory Police Service in Australia. Following his retirement from the RCMP, Mr. Mirasty helped to lead educational initiatives and served on several boards to reduce poverty and promote community safety.
Wednesday, September 29, 2021 | 12:00 - 01:30 PM (CST) 
This EDI Discussion Series event was held over Zoom.
What is systemic racism? How have governments and institutions contributed to and perpetuated racial injustice in Canada? Why is it important to have BIPOC communities represented within the public sector and how do you ensure their voices are heard and included in critical conversations?
Presented in collaboration with IPAC-Saskatchewan and moderated by Loleen Berdahl, JSGS Executive Director and Tanessa Boutin, IPAC-SK President, this EDI Discussion Series event featured panelists:
Ashley McDonald, Acting Director of Strategic Relations, Crowns and Agencies with the Government of Saskatchewan, has been an advocate for diversity and inclusion throughout her career and actively creates safe spaces for uncomfortable yet meaningful conversations.
Raquel Pasap, Nakota women from the Assiniboine First Nation known as Cega' Kin, is the Regional Program Development Advisor and Post-Secondary Lead for Indigenous Services Canada. She has a keen interest in and focus on Indigenous policy, programs and nation-building.
April Sora, Immigration, Diversity and Inclusion Consultant with the City of Saskatoon, has spent the better part of her career working and volunteering in the immigrant and refugee sector in both Toronto and Saskatoon. Having worked in many roles with both federal and municipal governments, April finds strength in her Japanese Canadian ancestry and familial history.

May 26, 2021 | 12:00 - 01:30 PM (SK Time) 
This EDI Discussion Series event was held over Zoom.
What is equity and where do you begin? Are you conscious about the decisions you make about who is at the table? Do you understand the cost of inequity in society, and the role you play as a public servant or person with authority?
Celina Caesar-Chavannes is a business consultant, coach and international speaker. She currently serves as the Sr. Advisor, EDI Initiatives and Adjunct Lecturer at Queen's University and her book, "Can You Hear Me Now?" was recently published by Penguin Random House Canada, on February 02, 2021. She was the former Member of Parliament for Whitby, Parliamentary Secretary to Prime Minister Justin Trudeau and Parliamentary Secretary for International Development. During her term as a Member of Parliament, Celina was awarded several distinctions including a feature in the April 2018 edition of O Magazine entitled, "What would you stand up for" and named Chatelaine Magazine's Woman of the Year (2019). She has a Bachelor of Science, an MBA in Healthcare Management and an Executive MBA from the Rotman School of Management.
April 28, 2021 | 12:00 - 1:30 pm (SK Time)
This EDI Discussion Series event was held over Zoom.