About the Houston Lecture Series
The Johnson Shoyama Graduate School of Public Policy is pleased to host the annual Houston Lecture as a way to bring together thought leaders, academics, students and community members to discuss and share knowledge on current issues related to inequality, health and social policy in Canada. The Houston Lecture is made possible by a generous donation from Stuart and Mary Houston and the Houston Family Trust. 
About Dr. Stuart and Mary Houston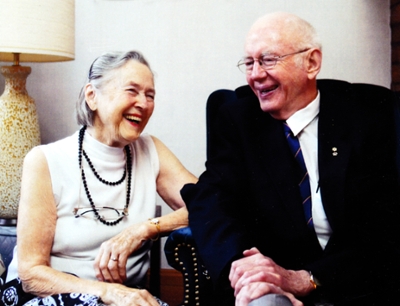 Stuart and Mary Houston grew up in Saskatchewan and spent their lives and raised their family here.  Through his practice of medicine and his deep involvement in Saskatchewan history, including books about Tommy Douglas and Saskatchewan's achievements in health, Stuart developed an insight into the intersection of politics and health, the critical importance of the "social determinants of health" and the vital need for policies impacting health to be based on the best possible evidence. Stuart and Mary were pleased that the Johnson Shoyama School has provided the means through which they can contribute to the development and dissemination of this evidence here in Saskatchewan.
As a reflection of their lifelong commitment to social justice particularly as it involves health and income inequalities, the Houstons, along with their family, established the Houston Family Trust for Evidence-Based Public Policy at the Johnson Shoyama Graduate School of Public Policy.
The Houston Lecture is one of the activities made possible by the Houstons' support.
2022 Houston Lecture
Presented on March 30, 2022, Dr. Katharine Smart engaged Houston Lecture registrants in a conversation looking at her clinical and leadership journey; including her start in Swift Current, her experience in clinical pediatrics in Whitehorse, and becoming a voice for physicians as President of the Canadian Medical Association. As CMA President, Dr. Smart has been vocal throughout the COVID Pandemic, addressing issues of the politicization of health communication, access to healthcare, and more. Dr. Smart shared her thoughts on the physician's role in politics and policy, her experience in small-scale healthcare innovation, her vision for the future of Canada's healthcare system and the role of physicians in Canada.
--
Presented by: Dr. Katharine Smart, President, Canadian Medical Association and Pediatrician, Whitehorse, Yukon
Dr. Katharine Smart is the president of the Canadian Medical Association, the 10th woman to access the role in 154 years. Dr. Smart works as a pediatrician in Whitehorse, Yukon.

Her work is centred on developing collaborative partnerships with community and government services to serve marginalized children using a model of social pediatrics. She works primarily with children who have experienced trauma and adverse childhood events, and witnesses the broad and lasting impact these events have on children and their development daily. She is passionate about improving services for marginalized children in an effort to change their life trajectories.

In addition to her community-based work, Dr. Smart enjoys acute care and provides on-call services to the hospital. Before moving to the Yukon, she was a pediatric emergency medicine physician at the Alberta Children's Hospital in Calgary. She is the past president of the Yukon Medical Association.
Past Speakers
What exactly is the Promise of Medicare? For starters, it has to do with living our values, specifically the value of equity of access to health care services. Canada's health care system was built on a promise we can all be proud of: the promise of access to services based on need, rather than the ability to pay. We can continue to be proud of that promise, but to deliver on it, Medicare needs to be improved. This is more evident now than ever, given the demands and pressures on the health care system due to COVID-19. From the vantage point of a family doctor working in the system, Dr. Martin explored in her presentation how we can do better. Now.

--
Presented by: Dr. Danielle Martin, Executive Vice President and Chief Medical Executive at Women's College Hospital, Acclaimed Physician and Health Care Expert
Dr. Danielle Martin is on the frontlines of transforming the healthcare system. An internationally recognized health policy leader and executive, Martin is committed to revolutionizing healthcare to meet the demands of the 21st century. She speaks with passion on our national healthcare system, defending and defining the ways we can make it even more worthy of our national pride.
Currently, Martin is the executive vice-president and chief medical executive at Women's College Hospital, where she is also a practicing family physician. She's leading the creation of Women's Virtual, Canada's first virtual hospital, and helping to create a hospital that leverages digital tools to bring care directly to the patient, re-shaping modern healthcare to be more accessible, timely, and innovative.
Martin made headlines in 2014 when her testimony on the merits of the Canadian vs. American health systems at a US Senate Subcommittee hearing, with Senators Richard Burr and Bernie Sanders, went viral. The video received over 35 million views online as well as worldwide media attention.
A go-to media spokesperson, Martin frequently provides commentary on health issues in the media, and is a known health contributor for the CBC. She is also the author of the national bestseller, Better Now: Six Big Ideas to Improve Health Care for All Canadians. In addition, she is an associate professor at the University of Toronto and is frequently asked to advise governments on how best to improve healthcare systems.
Martin has been named one of Toronto Life magazine's "Top 50 Influentials"; called one of the most powerful doctors by The Medical Post; and is listed as one of the Toronto Star's top "13 People to Watch". In 2019 she became the youngest physician ever to receive the F.N.G Starr Award, the highest honour available to Canadian Medical Association members.
Presented by André Picard, health columnist at The Globe and Mail and one of Canada's top public policy writers.
Andre Picard is also an author of the best-selling books The Path to Health Care Reform: Policies and Politics, Critical Care: Canadian Nurses Speak For Change, The Gift of Death: Confronting Canada's Tainted Blood Tragedy, and A Call To ALMS: The New Face of Charity in Canada. His latest book, Matters of Life and Death: Public Health Issues in Canada, was released in 2017.
André has received much acclaim for his writing, including the Michener Award for Meritorious Public Service Journalism, the Canadian Policy Research Award, and the Atkinson Fellowship for Public Policy Research.
In 2002, he received the Centennial Prize of the Pan-American Health Organization as the top public health reporter in the Americas. In 2005, he was named Canada's first Public Health Hero by the Canadian Public Health Association, and in 2007 he was honoured as a Champion of Mental Health.
André is also an eight-time finalist for the National Newspaper Awards – Canada's version of the Pulitzer Prize. In 2010, he was crowned as the country's top newspaper columnist.
He has been the recipient of the Canadian Nurses' Association Award of Excellence for Health Care Reporting, the Nursing in the Media Award of the Registered Nurses Association of Ontario, the International Media Prize of Sigma Theta Tau (Nursing Honor Society), and the Science and Society Book Prize.
His advocacy work has been honoured by a number of consumer health groups, including Safe Kids Canada, the Canadian Mental Health Association, the Canadian Alliance on Mental Illness and the Canadian Hearing Society.
In 2012, he received the Queen Elizabeth II Diamond Jubilee Medal for his contributions to improving health care in Canada.
André is a graduate of the University of Ottawa and Carleton University. He has also been awarded honorary doctors by the University of Ontario Institute of Technology, the University of Manitoba, Laurentian University, the University of Toronto, The University of British Columbia and Carleton University.
Presented by the Honourable Jody Wilson-Raybould, Minister of Justice and Attorney General of Canada
Reconciliation with Indigenous Peoples based on Recognition and Implementation of Rights remains one of the most urgent and compelling issues facing Canadians today. In her talk, the Honourable Jody Wilson-Raybould, Minister of Justice and Attorney General of Canada discussed her personal and professional experience in this pursuit, as well as the federal government's role and actions in modernizing the criminal justice system, increasing the use of restorative justice, and addressing the root causes of overrepresentation.
About our Speaker
The Honourable Jody Wilson-Raybould is the Minister of Justice and Attorney General of Canada, MP for Vancouver Granville, a lawyer, advocate, and former Regional Chief of the BC Assembly of First Nations. Called to the BC Bar in 2000, Jody Wilson-Raybould began her legal career as a provincial crown prosecutor in Vancouver and later served as an advisor at the BC Treaty Commission. In 2004, she was elected as Commissioner by the Chiefs of the First Nations Summit. Minister Wilson-Raybould was elected Regional Chief of the BC Assembly of First Nations in 2009 and re-elected in 2012.
After being elected as the Member of Parliament for Vancouver Granville in 2015, Minister Wilson-Raybould was appointed Minister of Justice and Attorney General on November 4, 2015.
Minister Wilson-Raybould is a descendant of the Musgamagw Tsawataineuk and Laich-Kwil-Tach peoples, who are part of the Kwakwaka'wakw and also known as the Kwak'wala speaking peoples. She is a member of the We Wai Kai Nation and is married to Dr. Tim Raybould.