Finding the Perfect Fit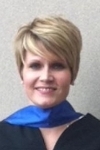 After earning a Bachelor of Arts (Honours) in International Studies from the University of Saskatchewan in 2006, Kristin Ward Diaz spent almost five years with the Elizabeth Fry Society of Saskatchewan (EFry) working as an office manager, volunteer coordinator and community outreach coordinator.
"I loved the non-profit sector, but I was still struggling to find a good career fit," she says. "Since I've always been something of a policy junkie, I looked at Johnson Shoyama."
Tailoring the Grad School Experience
Like many JSGS alumni, Kristin held down a full time job throughout her program, working full-time at EFry during her first year in the Master of Public Administration (MPA) program and then, when a job with Health Canada took her to the Queen City, completing the remainder of her course work at the school's University of Regina campus.
"When I look back, those two years are a bit of a blur," Kristin says. Still, she has good memories of her time at JSGS. "I can honestly say I took something away from every class. And I loved that my classmates were from all different levels in life—I remember Peter Prebble [former MLA] was in my water policy class."
A key for Kristin was being able to tailor her education to her interests. When her Governance and Administration class assigned an environmental scan, for example, she did hers on corrections—a good fit with her job at EFry.
Working for the Public Good
Earning her MPA was the first step; the next was translating her master's into a career. "Like a lot of my classmates, I just looked at policy analyst jobs at first," Kristin says. "It took me a while to realize that I like to be out and about in the community. I like working with people. So why was I looking at policy analyst jobs, where you spend a lot of time at a desk doing research?"
Kristin readjusted her focus, expanding her job search parameters to include jobs that involved daily contact with people and communities, preferably in an area that impacted the public good. She found what she was looking for in a job posting with Alberta Culture and Tourism.
"I'm keenly interested in issues that affect non-profit organizations, so when I saw the posting for a Community Development Officer (CDO) in Lethbridge, I really felt this job was the right fit for me, and I really wanted it," Kristin says.
CDO positions are much sought after in Alberta, and Kristin was one of many applicants.
Although she interviewed, she did not get the job. Undeterred, and hoping to get her foot in the door, she applied for a CDO internship. In 2012, Kristin became the first intern in the Stony Plain office. In 2013, she was nominated for the Institute of Public Administration of Canada (IPAC) Edmonton Regional Group Award for Emerging Excellence for new public service employees. She may not have won the award, but she did earn a permanent position as a Community Development Officer.
"Asking myself the right questions allowed me to open doors to other possibilities, and that allowed me to find the right career fit. That's the great thing about the MPA—you gain practical skills that apply to many jobs."
Practicing Policy on the Front-Line
Kristin is one of approximately 40 CDOs province-wide who act as a front-line delivery contact for Ministry community development programs. It is a consulting level position with considerable independence. In addition to working directly with non-profit, volunteer and community groups, Kristin works with multidisciplinary ministerial and governmental teams on complex, often politically sensitive initiatives.
The job requires frequent shifts in focus. In a single work week, Kristin might facilitate a strategic planning process for a municipal council, provide guidance on board roles and responsibilities to a community-based non-profit, and design and deliver a public or stakeholder consultation for a provincial ministry.
"It is a super job—the sheer breadth and volume of work is exciting," Kristin says. "We have a large volume of clients [there are approximately 24,500 registered non-profits in Alberta] and each one requires individualized services. You need to be able to find the right balance, whether it's facilitation, consultation, guiding or a combination. Mentally, it's demanding."
Kristin credits Johnson Shoyama's broad curriculum with providing a foundation for success. "The MPA program gives you a window on a wide variety of policy areas. That helps in my job today, where I'm working with client groups in many different areas. I may not have their knowledge, but my education gives me the ability to ask the right questions, so I can assess what they need to move their organization or their project forward," she says.
Kristin is no longer climbing a career jungle gym. Instead, she's creating a future she is excited to grow into. "I see so many policy contexts in what I do—I feel as if I am truly contributing to the public good."