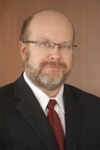 Ralph began in 1983 as a planning technician with the provincial government's Community Planning branch in Regina, was promoted to principal planner in 1991 and then moved into a leadership role as assistant director in 1999.
He assumed his current role as Executive Director of Community Planning with the Ministry of Government Relations/Municipal Affairs in 2008—the same year he completed his Master of Public Administration at Johnson Shoyama.
A Growing Cohort of Mature Alumni
Leibel is one of the many professionals come to JSGS as mature students well established in their careers, but seeking advanced education and training to move into the senior policy roles. Enrolling in 2004, Leibel took two classes a year and completed the Master of Public Administration (MPA) program in the fall 2008. The schedule enabled him to pursue a master's program while continuing to meet the responsibilities of his role in Community Planning.
The mandate of the Community Planning branch is broad—to facilitate the future growth and development of the province by providing oversight of Saskatchewan's land development framework and the Saskatchewan Plan for Growth. The framework enables municipalities to secure their future by facilitating land use and development opportunities that support economic growth and foster environmental protection, while also meeting the cultural and social objectives of Saskatchewan communities.
While Leibel considers himself fortunate to have spent his career in community planning, he enjoyed expanding his horizon. "The MPA program was something I needed for upward mobility in my career, but it also provided a challenge," he said. "It gave me an opportunity to research new issues and concepts that expanded my skill sets. I gained knowledge and understanding of a broad range of public issues of both federal and provincial importance. This was valuable because it included issues outside of my job experience, from financial analysis to health issues, northern issues, social issues and so forth."
Learning From Each Other
One of the unexpected upsides of being a mature student, according to Leibel, was the chance to work on group projects with students who were at the beginning of their careers. "I think people who are drawn to government service are naturally inclined to work together, but the Johnson Shoyama program really accentuates that—it is designed to have diverse student teams work together. It was a good experience to be able to share my practical experience and knowledge and to have younger students share their insights and new approaches to doing things."
Leibel believes that having a group of young professionals who understand the complexities, challenges and expectations of government service is critical, especially with many mature professionals preparing to retire from government.
"Succession planning is very important right now," he said. "It is critical that we have young professionals coming into government who have the knowledge and skills in public policy, but also the practical knowledge and understanding of how government really works. You have to have a good grasp of the fundamentals, everything from a clear understanding of budget cycle requirements to knowing how to do effective briefing notes and cabinet decision items. That's where the Johnson Shoyama program is so beneficial—it provides both theory and practice."
Sharing New Learning
Overall, Leibel believes the MPA has been both relevant and useful in his position as executive director of Community Planning. "It's not just the new skills, it's a better, broader understanding of policy analysis, program evaluation and public administration. It's an introduction to new methodologies and new ways to improve research analysis. These are things I've been able to share with staff and colleagues."
His journey through the program paralleled the initial years of an "expansive" project in his branch: development of the province's Statements of Provincial Interest Regulations. The project involved several professionals, more than a hundred stakeholders, close to a decade of preparation and follow-up. "It was very much a team effort," Leibel said. "My individual contributions included leading a great team of professionals, being part of the stakeholder consultation team, working with team members on taking concepts and drafting them into policy statements, and moving the regulations forward through the various processes to be adopted by the Lieutenant Governor in Council."
The Statements of Provincial Interest Regulations align provincial and municipal objectives for land use planning. They connect 14 different policy areas, from agriculture, resource development, and public safety to First Nation and Métis engagement and inter-municipal cooperation.  They set out key principles and policies to guide the use of land and positively impact community development, economic growth and environmental stewardship.  In 2013, Leibel was awarded the Fraser-Gatrell Planning Award for Distinguished Contribution as a Planner from the Saskatchewan Professional Planners Institute for recognition of this achievement. 
Advice for JSGS Graduates
When asked what advice he has for current and future JSGS grads, Leibel focuses on networking. "As alumni, you will have opportunities at various events to maintain your contacts, meet new professionals and build your network—this will be invaluable to you in the future. These individuals are, or will be, the future managers, directors, executive directors, assistant deputy ministers and deputy ministers. Keep in touch by staying involved."
He also underscores the importance of ethics. "To preserve democracy and the rule of law, public servants, whether municipal, provincial or federal, have an obligation to maintain their professional responsibilities. Make sure you review the codes of conduct and ethical behaviours of your professional associations."
Based on the up-and-coming generation of JSGS graduates, Leibel is optimistic about Saskatchewan's future. "I encourage JSGS grads to think about finding positions here. I was very fortunate to be able to stay, work, live and play in Saskatchewan back in 1983. With the growth we are experiencing today—and the challenges—I can truly say I am enjoying my work more now than 25 years ago," he said. "Saskatchewan is only getting better."