Taking on a New Challenge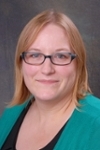 When we caught up with Johnson Shoyama alumnus Camilla Colpitts (MPA'11), she was just two weeks into a new position as Assistant Deputy Minister Policy for Saskatchewan's Ministry of Agriculture. "I've got a strong background in policy and relationships, but agriculture is a completely new area for me, so I've been doing a lot of reading—just like my Johnson Shoyama days," Cammy says.
Cammy has been with the Saskatchewan government for over a decade, rising through the ranks from junior policy analyst to intergovernmental officer and then executive director with Canadian Intergovernmental Relations. She also did a brief stint as executive director with the Ministry of Social Services before moving to Agriculture.
"Agriculture is an incredible ministry with a great team of people. And the work is important. A lot of conflicts around the world are driven by food security," Cammy says. "Some countries have huge populations but limited land to grow food. Saskatchewan has a smaller population but huge land capacity, so we can contribute to food security in a meaningful way. Part of my job is to help address issues around agricultural trade and policy, so our products can get to market."
From Journalism to Poli-Sci to Public Policy
Cammy grew up in northern Alberta but came to Saskatchewan for the University of Regina's journalism program. She readjusted her career plans when she fell in love, much to her own surprise, with political science. After graduating with bachelor honours degree in political science, she got a job with the Saskatchewan government as a junior policy analyst with Tourism, Parks, Culture and Sport.
"I had a fantastic mentor as well as a deputy minister who believed in involving young employees in decision-making processes, so I got a good look at how policy works. From there, I become more and more interested in public administration and policy work," she says
Cammy explored master's programs across the country, but chose Johnson Shoyama because of her connection to the U of R, the school's faculty and the program's flexibility. With young children and a full-time job, she enrolled part-time, earning her Master of Public Administration in 2011.
Lessons Learned in the Classroom
During her undergraduate days, Cammy would not have described herself as (a) ambitious or (b) competitive. At Johnson Shoyama, she learned she is a little bit of both. She points to her negotiation & conflict resolution course as an example. "In a self-reflection exercise, I wrote that I was naturally collaborative rather than competitive. I remember Bob Hawkins, our professor, saying to me, 'I'm pretty sure you're competitive.' That was a light bulb moment. I realized that being competitive and being ambitious is okay, it's not a bad thing."
Cammy enjoyed all her Johnson Shoyama courses, partly because she enjoys academic learning but also because of the practical focus. "Constitutional law was a favourite class—and public finance. That was a required course that I didn't think I'd like much but ended up really enjoying. I loved the governance and administration course, which was the first course I took—it's a core course, so everyone takes it. Gregg Marchildon was instructing and Dan Perrins, who was still deputy minister to the premier, was one of the guest speakers. There's a difference between what you learn in an academic setting and what it's really like in a practical setting, and the faculty at Johnson Shoyama really help you bridge that," she says.
"At Johnson Shoyama, you learn the standard tools you need in public services, like writing clearly and concisely, but you also learn about how to engage with elected representatives, about how decisions are made and about who's making them. You get a strong understanding of how government works at a basic level, and the tools to function and communicate within that."
Being Involved in Changing Markets
Today, as ADM Policy in Agriculture, Cammy is working everyday on trade and policy issues that can have tremendous long-term benefits for the province. Cammy points to the province's growing importance as a lentil producer as an example. "When I was growing up, Saskatchewan was known as a grain and canola producer; now we're a huge lentil producer exporting around the world—that change happened in just 30 years."
In fact, Saskatchewan farmers grew 99% of the lentils exported by Canada and 72% of the lentils exported worldwide in 2015, for an export value of $1.4 billion. India, Turkey and the Middle East are key markets—in just three years, lentil exports to India doubled and exports to Turkey tripled. That's just one crop. Global demand has seen Saskatchewan's agri-food exports double and then double again over the last 10 years. The value of cereal, oilseed, pulse and live cattle exports hit a record high of $15.1 billion in 2015.
As part of the deputy minister's team, Cammy works with two other assistant deputy ministers, one focused on regulatory/innovation and the other focused on programs. The policy portfolio touches a bit of everything. "Agriculture is a shared jurisdiction with the federal government, so the policy portfolio has a lot of federal-provincial relations. There's also international trade, market development, value-added, board governance, farm and crop statistics. Policy issues have a huge impact on people, for people in our province and in our export markets. I enjoy policy work because I can contribute to our province in a meaningful way."