When Braden Cline applied for the Johnson Shoyama Graduate School (JSGS), it was a way to try something new and exciting with a prestigious institution of higher learning.  
After winning the school's case study competition, going on to compete in the national competition, and having the chance to give a presentation to a sitting Canadian senator, it's safe to say that "new and exciting" were checked off the list with confidence.  
And all of that is within just the first year of study in the JSGS Master of Public Administration (MPA) program.  
"I'm very satisfied with how things have turned out," Cline said with a laugh. "I've really enjoyed this program and what it's been able to teach me. It provides a really wide array of opportunities and things that I can do." 
It's been a whirlwind of an experience for Cline in the MPA program. He had originally planned on going into law, but after some reflection, wasn't sure if that was actually the right fit. On the recommendation of a friend, Cline attended a JSGS information session where faculty spoke to students about the benefits of the program.  
It was one particular presentation from Alistair MacFadden, the now-Interim Director of the JSGS USask Campus, that really stuck with Cline.  
"One of my favourite lines of his was 'lawyers get to interpret the law, but we get to help create the law.' That hit home for me," Cline said.  
After successfully applying to the MPA program Cline was swiftly encouraged to take part in the school's internal case competition — where teams of students are presented with a real-world policy scenario and are given just 90 minutes to research the issue and present a solution to a panel of judges.  
Calling it a "crazy time crunch," Cline worked with his team to create a presentation — and ended up winning the case competition alongside them.  
"I was just getting out of the phase of, do I belong here? I definitely felt surprised by what had happened up to that point, but I definitely felt affirmed," he said. 
Cline said the winning team from the internal case competition wasn't guaranteed to participate in the national competition. Nevertheless, he was chosen to take part with a new team of students.  
The National Public Administration Case Competition (NPACC) is open to public administration and policy students from across Canada. Teams are presented with a case, and like the internal competition are given a set amount of time (days instead of hours, this time) to research and create a presentation on how they would address the complex issue set before them.  
Part of the preparation for the national team is support and coaching from faculty members and provincial government employees. The topic — central bank digital currencies — was definitely a challenging one for the team without any formal financial background, but Cline relished the opportunity to take some risks and add new knowledge to his toolkit.  
"It was an incredible learning experience," Cline said. "One of our professors said in his mind, the biggest thing we would get out of this was learning how to work properly as a team. And that definitely was the number one thing for me."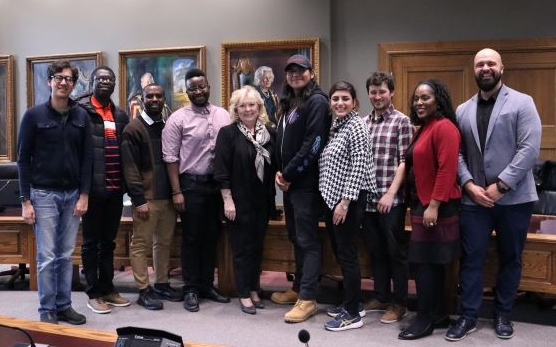 Cline also had the rather surprising opportunity to present to a Canadian Senator from Saskatchewan in one of his classes — his very first, in fact.  
In one of the MPA introductory classes, Cline and his cohort would be giving presentations to get used to the process of researching and sharing information. The instructor, Cline said, emphasized that he wanted it to feel as real as possible for the students.  
So, the instructor invited Senator Pamela Wallin to sit in on the presentations. And despite the nerves, Cline and his partner ended their presentation feeling pretty confident.  
"It went pretty well — one of the things I like about the program is that the people in it come from diverse backgrounds," he said. "My partner for the project, she's from Jamaica and she had years of experience in marketing, so we were able to put together a pretty good presentation." 
Despite the adventures his relatively brief time in the program have led him on so far, Cline isn't slowing down — he's already looking ahead to an opportunity in the Executive Internship program provided by the school.  
The Executive Internship Program gives MPA students the chance to gain work experience in their field. JSGS staff help pair students with government or non-government organizations that fit their areas of interest to allow them to network and build their professional knowledge in a workplace setting.  
For Cline, it's just the next exciting step in an already-jam-packed program of study ats JSGS.  
"I want to see exactly the type of work I would be doing, and see how the things I've learned so far would apply," he said. "It will give me a better sense of to what extent the practical knowledge we're learning is applicable, and what things I should work on to have better opportunities when I get out of the program."