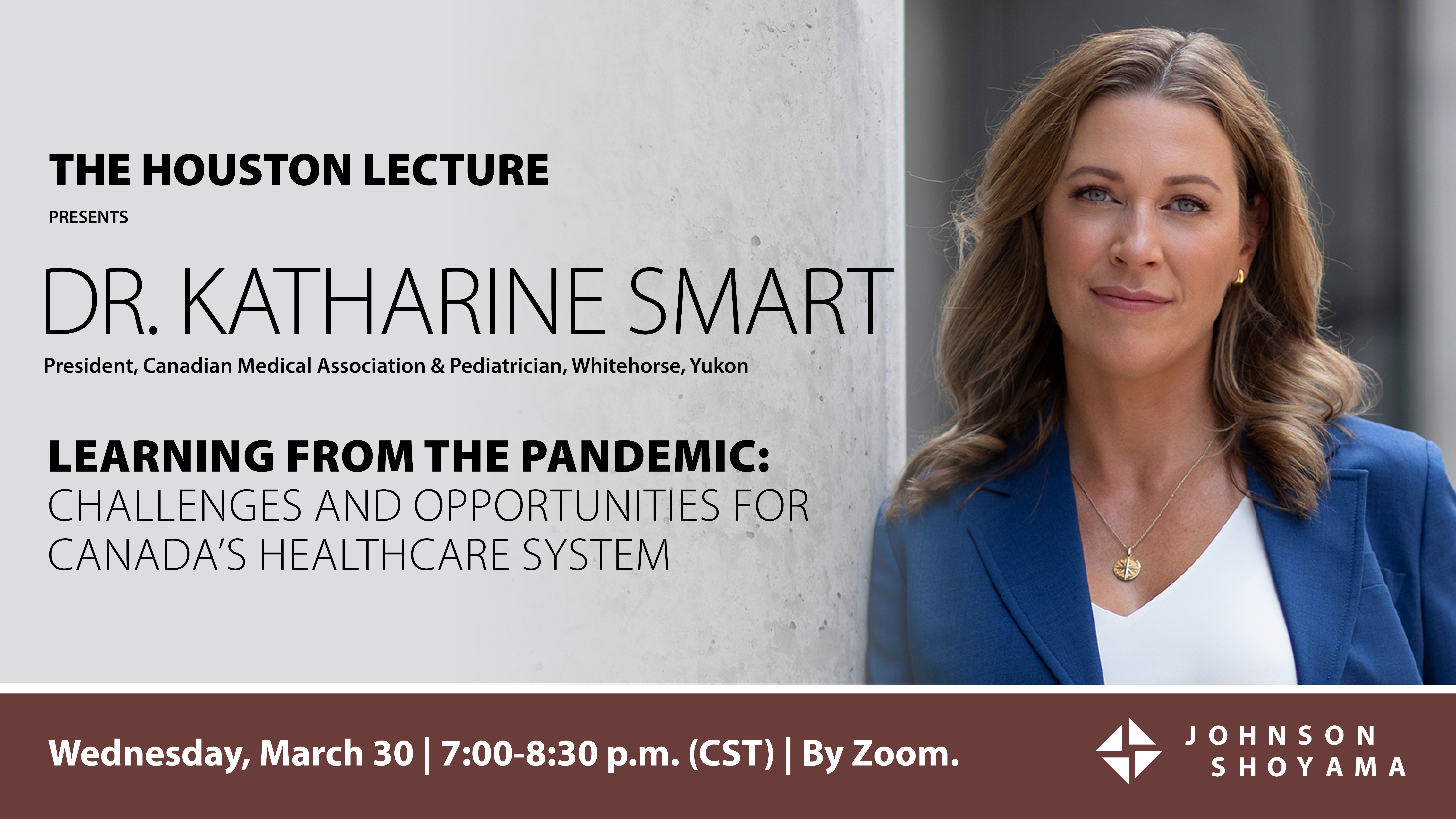 Join us for the 2022 Houston Lecture as Dr. Katharine Smart leads us through a conversation looking at her clinical and leadership journey; including her start in Swift Current, her experience in clinical pediatrics in Whitehorse, and becoming a voice for physicians as President of the Canadian Medical Association. As CMA President, Dr. Smart has been vocal throughout the COVID Pandemic, addressing issues of the politicization of health communication, access to healthcare, and more. Dr. Smart will also share her thoughts on the physician's role in politics and policy, her experience in small scale healthcare innovation, her vision for the future of Canada's healthcare system and the role of physicians in Canada.
About Dr. Katharine Smart
Dr. Katharine Smart is the president of the Canadian Medical Association, the 10th woman to access the role in 154 years. Dr. Smart works as a pediatrician in Whitehorse, Yukon.

Her work is centred on developing collaborative partnerships with community and government services to serve marginalized children using a model of social pediatrics. She works primarily with children who have experienced trauma and adverse childhood events, and witnesses the broad and lasting impact these events have on children and their development daily. She is passionate about improving services for marginalized children in an effort to change their life trajectory.

In addition to her community-based work, Dr. Smart enjoys acute care and provides on-call services to the hospital. Before moving to the Yukon, she was a pediatric emergency medicine physician at the Alberta Children's Hospital in Calgary. She is the past president of the Yukon Medical Association.
Event Details
When:

Time:

07:00 PM - 08:30 PM CST

Location:

Delivered by Zoom - Please register online and a link will be emailed to you.

File:
Contact
Karen Jaster-Laforge