The Johnson Shoyama Graduate School of Public Policy (JSGS) is very pleased to announce the appointment of Amy Zarzeczny to a half-time term faculty position at the school's U of Regina campus, effective August 1, 2011.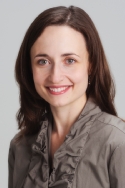 Zarzeczny brings to the position an impressive research portfolio in health law, having served as a research associate and project manager with the University of Alberta's Health Law Institute for the last three years. She has also spoken on numerous occasions to students at the U of A as a guest lecturer on topics including legal, policy and social issues related to stem cell research, genetics and other health law related subjects. Her specific research focus has been in the area of bioethics, specifically, the legal, social and science policy issues associated with emerging areas of biotechnology.
"I am thrilled to be joining the fantastic team at JSGS and look forward to continuing and expanding on my research as well as to contributing to the school's excellent teaching environment."
Amy obtained her Master of Laws with distinction from the London School of Economics and Political Science (LSE) in 2008, her Bachelor of Laws with distinction (2005) and her Bachelor of Arts in Psychology (2002) from the University of Alberta (U of A). During her studies, she was the recipient of a number of awards including the Stanley De Smith Prize in Public Law (2008, LSE), Horace Harvey Medal in Law (2005, U of A), and the Mr. Justice W.G. Morrow Memorial Prize (2005, U of A). 
In addition to her research agenda, Zarzeczny will be offering JSGS students an elective course in Health Law and Policy as well as teaching the current Health Policy course.   She will also contribute her expertise to the school's workshops and other training programs, including those offered to health officials in both the Ministry of Health and in various health regions in the province.