On November 7, students from the Johnson Shoyama Graduate School of Public Policy University of Regina campus were invited to participate in CBC Saskatchewan's live coverage of the provincial election. Students not only joined the live studio audience, but participated in voicing their opinions through various social media outlets.
Below is a re-count of Miranda Brown and Juliet Bushi's election experiences.
---
November 8, 2011 - Participating in CBC's live election night coverage was an incredible and exhilarating experience, both from a political and academic perspective. As a public policy student with the Johnson Shoyama School of Public Policy, participating in the democratic process of a Saskatchewan election was an important opportunity to expand my scope of political knowledge. This knowledge was applicable to my own academic and professional contexts. As well, the energy radiating from the audience, CBC staff, political panelists, and the television hosts was entirely empowering and I am very grateful for the experience.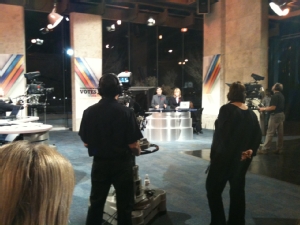 Photo Credit: Jose Condor
The analysis and debate generated by the political panelists – Janice McKinnon and John Courtney – established important connections between politics, political cycles, and public policy. They focused on key themes such as leader popularity, leadership characteristics, the future direction of the NDP, and gender balance in politics. All of these themes impact public policy in every stage of the policy cycle – from problem definition to implementation and evaluation. For example, CBC political correspondent Stefani Langenegger, as well as Janice McKinnon and John Courtney, raised important points about the dismal gender-balance in this election. For them, recruiting more women to run for office is crucial to changing political processes and providing more diverse perspectives to address policy problems and solutions. I thought that their perspectives were well placed with the context of increasing political representation from groups beyond the white-male dominated political status quo. Since there are key stages in the policy-making process, which limit the access of actors to decision-makers, there is value to engaging diverse perspectives in this particular arena in order to generate better policy and better outcomes.
While the Saskatchewan Party's victory came as no surprise, the seat changes in the urban ridings were another interesting component of election night, as the Saskatchewan Party replaced long-standing NDP ridings. For me this demonstrated conflicts between predictability and variability in politics, as some seat-changes were unexpected. As well, the seat changes made me reflect on some of the leadership characteristics possessed by the party leaders. Indeed this was an important part of the discussion last night, as NDP leader Dwaine Lingenfelter lost his riding in the Regina Douglas Park constituency.  Much speculation was made about the influence of his leadership characteristics and the Saskatchewan Party attack ads in his ultimate alienation from the electorate.  This was a very interesting part of the discussion for me, since comparisons of Lingenfelter's loss were connected with Michael Ignatieff's loss in May 2011. Whether or not these comparisons are accurate or even warranted, I think that it is important to respect the difficulty in taking on a party leadership position.
Beyond the political events that unfolded last night, the use of social media, such as Twitter, was an important part of the experience. Prior to election night I was fairly unaccustomed to Twitter; however, once I began to use that piece of technology to participate, I began to clearly understand the interactive and public engagement power that social media holds. I believe that this was something I had to personally experience in order to change they way I perceived the utility of social media technology and its relationship to information. Additionally, experiencing the television production aspect of the program further reinforced the importance of the relationship between technology and information dissemination. It was amazing to see the number of people rapidly facilitating large amounts of election information with the hosts, panelists, and audience.
By the end of the night it was obvious that Brad Wall's populist messages and promises of path-dependency had won over most parts of the province. It will be interesting to watch the growth of Saskatchewan over the next four years, as policy agendas and issue saliency may change within that period of time. As well, changes within the NDP will be important to observe, as they simultaneously re-shape the political positioning of their party and fight vigorously to have a voice in a Saskatchewan Party-dominated legislature. In the next provincial election, I strongly encourage future JSGS students to participate and engage in the election opportunities provided by the CBC, both as policy students and as attentive members of the public.
Miranda Brown, Master of Public Policy student
--
I arrived at CBC studio in Regina at 7:30PM. I was welcomed by a CBC staff member and directed to the waiting room where the other audience members and I would soon be debriefed. At about 7:45, we were all ushered into the studio where the CBC reporters were also getting ready for the live event to commence at 8pm.  As we took our seats in the CBC studio, Jill, a CBC audience reporter gave us instructions on how to post comments on twitter and also asked that students who would like to make a comment at the live event prepare themselves.
At 8PM, the live event began and cameras were rolling.  The environment suddenly became calm and the audience very attentive.  CBC newscasters got the ball rolling and, in seconds, results were coming in. The first result was a lead for the Saskatchewan party's (SP) Don McMorris who won Indian Head-Milstone with 76% vote. Next, the New Democratic Party (NDP) got its first lead from Doyle Vermette in Cumberland.  As the results came in, we were all glued to the television screen and our twitter accounts.
Suddenly the shocker of the night appeared on the screen; the Green Party's Nathan Sgrazzutti was in the lead. I remember whispering to the student next to me about how young Nathan looked; I was truly impressed. But the lead only lasted for about five minutes until his opponent from the SP took the lead. For five minutes, Nathan Sgrazzutti tasted victory! His brief majority in Regina North East made him the only Green Party Member to lead in any constituency.
The atmosphere was very energetic and lively as the results came pouring in. And then came Gene Marckosky (a Roughrider) leading for SP. Jill, the CBC audience reporter, interviewed Amanda a student from the University of Regina about Marckosky's lead. Amanda suggests that that most people may have voted based on Marckosky's popularity, especially the die-hard 'Rider fans. This notion started a debate amongst the audience members. If people had really voted based on Gene's popularity, they just threw democracy out of the window. 
Soon some familiar names came up on the screen. Our Johnson Shoyama Graduate School's very own Warren McCall (NDP) (student), Jeremy Harrison (SP) (alumnus) and Bob Hawkins (SP) (lecturer) were all leading their ridings at this time. SP leader Brad Wall was also leading this riding and the run to be re-elected as the premier of Saskatchewan.
Finally, the long awaited result came in; Brad Wall was declared the next premier of Saskatchewan. This shows that the people of Saskatchewan still have faith in Brad Wall and hope that he will keep his promises. NDP leader Dwain Lingenfelter's defeat in his constituency and a landslide victory by the Saskatchewan Party sparked the audience's attention. Perhaps unsurprisingly, majority of the audience members were not surprised by this. I would argue that since the victory was landslide, the probability was that the majority of the audience had voted for SP and therefore would not be surprised by NDP's defeat. More also, another student in the audience had commented on the challenges she went through to get a hold of Mr. Lingenfelter but to no avail.
Later, Dwain Lingenfelter took the stage to give his concession speech. Lingenfelter apologized to all NDP candidates and voters, publicly accepting responsibility for the disappointing loss. Lingenfelter also tendered his resignation as NDP leader. 
As the night went on, SP candidates were winning their ridings all over Saskatchewan. Re-elected Premier Brad Wall also gave his victory speech. From the look on his face, there was no doubt that he was the happiest man in the province on election night.
Overall, this experience was priceless, remarkable and truly exciting. Although voter turnout this year was 66%, the Saskatchewan Party was re-elected with 49 seats & 64% of the vote compared to the 9 seats & 32% of the vote for the NDP. I find it sad that a 66% turnout (down 10% from 2007) still compares favorably to other provincial elections this year. Overall, Saskatchewan's online energy was overwhelming. I feel like Saskatchewanians are delighted and optimistic about their province.
Saskatchewan boasts the fastest economic growth rate of any Canadian province not just because of wheat, but also a rich mix of other farm crops as well as its natural resources such as potash, oil and natural gas, uranium, all of which are enjoying record prices. PotashCorp has become one of the biggest companies on the Toronto Stock Exchange. We should not forget past premiers that set the foundation that Premier Wall has built so successfully on. Now, thanks to its economic growth, Saskatchewan too has become a "have" province.
Juliet Bushi, Master of Public Administration student