The Ministry of Health is embarking on an exciting new initiative through a partnership with the Canadian Health Services Research Foundation (CHSRF) and the University of Regina Johnson Shoyama Graduate School for two embedded researcher placements. On a part-time basis over the next three years, Sharon Bishop and Adam Mills will work with the Saskatchewan Surgical Primary Health Care Initiatives. Their input will provide the Ministry with a better understanding of what facilitates transformative change and what acts as a barrier to it. Their participation will enhance the ministry's policy development and help them to achieve the best patient- and family-centred care for Saskatchewan.
Having embedded researchers in the ministry, allows for greater interaction among policy makers, clinicians and health system leaders while completing individual research projects and developing a knowledge base that supports other health system transformation initiatives.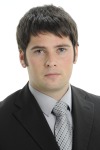 Adam Mills, Embedded Researcher in PHSB – Adam Mills is a PhD Candidate at the Johnson Shoyama Graduate School of Public Policy specializing in health policy.  He is an alumni of the WRTC program.   He holds a Master of Public Administration (University of Regina) and Bachelor of Commerce (Mount Allison University). Adam's academic interests in policy development and transformational system change have been practically informed by his work experience as a policy analyst intern in the DM's office at Social Services and positions within Government as a Senior Policy Analyst, Research and Evaluation Consultant and Economist.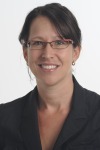 Sharon Bishop, Embedded Researcher in SkSI – Sharon Bishop is a PhD Candidate at the Johnson Shoyama Graduate School of Public Policy specializing in health policy. She holds a Master of Health Services Management and a Bachelor of Nursing from Queensland University of Technology, Brisbane, Australia. Until recently, Sharon has held the position of Clinical Resource Nurse within Regina Qu'Appelle Health Region. She is also a Clinical Research Co-ordinator with Dr. Krishna Kumar, Neurosurgeon. Through this work Sharon is actively engaged in research with a specific focus on chronic pain management, health economics and timely access to care.
For more information, contact:
Colleen Walsh
WRTC Program and CRC Coordinator
Johnson Shoyama Graduate School of Public Policy
University of Regina
110-2 Research Drive
Regina, SK.  Canada S4S 0A2
306.585.5469 (phone) 306.585.5461 (fax)
Email: colleen.walsh@uregina.ca