With the generous support of our event sponsors SaskTel and Cameco, the Johnson Shoyama Graduate School of Public Policy was pleased to host the first National Policy Case Competition on January 13 in Saskatoon. 
The case competition, which involved student teams from Carleton, Queen's and Simon Fraser universities along with 3 teams from host school JSGS, featured the analysis of a case study addressing a massive explosion and fire on an offshore drilling rig resulting in fatalities and thousands of litres of crude oil spilled in to the Gulf of Mexico. Teams were given 3 hours to deliberate and develop a presentation on their findings and recommendations. Teams then presented to a panel of judges who expertly played the role of cabinet ministers, while an audience of faculty and students looked on.
"The competition was, first and foremost, a learning opportunity," said Executive Director Michael Atkinson, Johnson Shoyama Graduate School of Public Policy. "Students learned about the challenge of absorbing, synthesizing and presenting information in a highly constrained situation. Faculty learned more about the skill set that the judges demand. And we all learned how much policy schools have in common even in the midst of competition."
The Johnson Shoyama Graduate School of Public Policy would like to congratulate the team from Carleton University on being awarded first place in the competition. The Carleton University team was composed of students Cameron Campbell, Ellen Creighton, Brittany Fritsch and Craig Macnaughton, and lead by Faculty Coach, Robert P. Shepherd.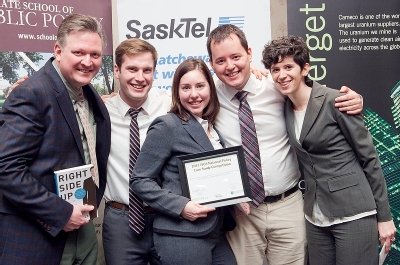 We would also like to extend our appreciation to our panel of distinguished judges comprised of Ms. Sharon Lee Smith - Assistant Deputy Minister, Saskatchewan Region, Western Economic Diversification; Mr. Ron Styles - President and CEO of SaskTel; and Ms. Patricia Youzwa - Former President and CEO of SaskPower, for taking time out of their busy schedules to help make this event a meaningful experience for all who attended.
The case competition concluded with a keynote reception featuring Ezra Levant entitled Ethical Oil. Mr. Levant presented his entertaining and thought-provoking perspective on the ethics of Canada's oil sands to a sold-out audience at the Hilton Garden Inn, Saskatoon.
For more information, contact:

Jennifer Robertson, Communications and Marketing Specialist
Johnson Shoyama Graduate School of Public Policy
University of Saskatchewan
E-mail: jennifer.robertson@usask.ca
Phone: 306-966-2663