By Lisa Buchanan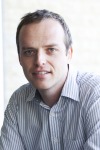 Vanier scholarship recipientLinsay Martens
A University of Saskatchewan public policy student has won a prestigious national scholarship that will enable him to explore how policy changes could create opportunities for First Nations to produce renewable electricity for the power grid.
"The scholarship will support my research in an area of vital importance to Saskatchewan and Canada – transitioning to more sustainable electricity systems and ensuring First Nations participation," says Linsay Martens, a PhD student in the Johnson Shoyama Graduate School of Public Policy at the U of S.
"If we are going to move toward more sustainable modes of generating electricity – and we need to do so – then I'm interested in the possibilities for First Nations to participate and to experience much-needed economic and social benefits."
Martens, 30, is one of this year's recipients of the prestigious Vanier Canada Graduate Scholarship, one of the most competitive scholarships in the country. It provides doctoral students with $50,000 a year for up to three years of study at a Canadian university.
His interest in the environment was piqued while working for the Saskatchewan minister of environment. Through his graduate work, he is now applying sustainability transitions studies – an emerging field focused on long-term and multi-dimensional transformations – to assess the challenges to and opportunities for First Nations participation in distributed, renewable electricity generation.
Traditional means of generating electricity, such as coal and natural gas, contribute to climate change and strain ecosystems. These sustainability concerns have led to a growing recognition of the need to change the way in which electricity is generated by, for example, increasing the use of renewable energy sources—such as wind farms—that are distributed throughout regions.
Like many jurisdictions, Saskatchewan relies heavily on a few large coal-fired power plants. Such centralized production presents an obstacle to small communities, including First Nations, which could generate and feed electricity into the grid.
Distributing power generation more widely across the province could create opportunities for those communities to find creative solutions for electricity production and allow them to benefit socially and economically, Martens says.
His work promises to make an important contribution to the field. Studies to date are based mainly in European countries and research has not yet included a study of the role indigenous groups can play in changing how electricity is generated.
"By using this approach to address the question of the contribution of the shift to renewable energy to First Nations economic development, Linsay will be breaking entirely new ground," says Martens' supervisor, public policy professor and Centennial Research Chair Jeremy Rayner.
"Power generation is more than just an engineering problem," Rayner says. "The longer that SaskPower and the government of Saskatchewan put off decisions about how to reduce greenhouse gas emissions, the more difficult those decisions become."
Using Saskatchewan and three other provinces as case studies, Martens will look for ways these decisions could overcome existing obstacles to First Nations' involvement in the shift to new electricity systems.
For example, Nova Scotia has introduced a feed-in tariff program in which independent renewable power producers, such as the Millbrook First Nation, sell their excess electricity to Nova Scotia Power.
"Linsay's work will uncover the social and economic consequences of the different pathways to a more sustainable future," Rayner says.
The result will be timely recommendations for policymakers and First Nations leaders about how to spark and propel the shift to sustainable energy production by harnessing opportunities for First Nations involvement in renewable energy production, Rayner says.
Martens believes that changing how and where electricity is generated could have a positive social and economic impact in First Nations communities, particularly through job creation.
- 30 -
Lisa Buchanan is a graduate student intern in the U of S Office of Research Communications.