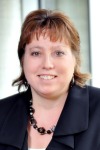 Lynn Gidluck, PhD candidate,Johnson Shoyama GraduateSchool of Public Policy
This spring, JSGS PhD student Lynn Gidluck was one of five scholars from around the world selected to complete a residency at University of Nevada, Las Vegas as part of its Gaming Research Fellow program for the 2011-2012 academic year. After a small delay convincing US border agents in Calgary that her reason for traveling to the US was legitimate, she was on her way to the experience of a lifetime.
For Gidluck, who is passionate about government responsibility with regards to gambling, Las Vegas was the perfect location to further her research. "UNLV has one of the most extensive gambling collections in the world," said Gidluck. "It would take months to order all of these books through interlibrary loans and many of the resources at UNLV are one-of-a-kind documents that are only available for viewing on site."
Given the widely documented social problems associated with gambling to both individuals and society, Gidluck says she is a firm believer that governments, when they act as the owners, operators, and regulators of gambling ventures, should be expected to be fully transparent in informing the public how they are raising money earned from gambling. Furthermore, she argues, governments should also demonstrate what they are spending this money on and why their spending decisions are in the best interests of the communities they serve.
During her month-long residency, Gidluck delivered a presentation as part of the Gaming Research Colloquium series and wrote a paper entitled "Halos, Alibis and Community Development: A Cross National Comparison of How Governments Spend Revenue from Gambling" that was published as part of the Center's Occasional Paper Series.
Gidluck says the research she did for this presentation and paper will help her write a chapter of her dissertation looking at the different policy choices governments have for distributing revenues from state-directed gambling and how these choices have been justified by proponents and vilified by critics. Gidluck's dissertation also will focus on how revenue from gambling can be more effectively used as a tool of public policy and community development, which policy alternatives have the potential to benefit communities the most and cases where governments have collaborated with the voluntary sector to deliver public services from gambling revenue.  
In 2011, Gidluck was the recipient of a three-year doctoral scholarship from the Social Sciences and Humanities Research Council which allows her to devote the majority of her time to working on her dissertation. "My goal is to finish my dissertation before my funding runs out," she says. In the meantime, Gidluck has scaled back her work with the Regina-based public relations firm Benchmark Public Relations, which she is a partner in.
"I love what I'm doing and wake up every morning with a smile on my face," she says. "I'm so fortunate to be able to do this kind of research and to have the opportunity to learn from people like Greg Marchildon and Raymond Blake, who are my supervisors." Marchildon is Professor and Canada Research Chair in Public Policy and Economic History (Tier 1), at the Johnson Shoyama Graduate School of Public Policy. Blake is Professor of History at the University of Regina and former Director of the Saskatchewan Institute of Public Policy.