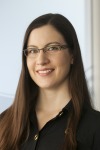 Sara McPhee-Knowles, PhD Candidate
Saskatoon – Sara McPhee-Knowles, PhD candidate at the Johnson Shoyama Graduate School of Public Policy University of Saskatchewan campus, has been awarded a Doctoral Fellowships Program scholarship by the Social Sciences and Humanities Research Council (SSHRC), totaling $20,000 per year for two years, to develop new ways of understanding how governments make decisions, particularly when they face uncertainty and risk.
McPhee-Knowles' research will focus on the interconnected, complex problems facing governments when they make decisions on topics with social consequences such as pension reform, health care spending and regulating new technologies. The research will also look at how individuals make social choices and how well these assumptions predict the outcomes of their decisions.  
"Few experiments have been conducted in the field of public policy," said McPhee-Knowles. "By bridging the gap between behavioural economics and policy studies, this research has the potential to develop new approaches for interdisciplinary work and experimental design for dealing with the social problems associated with public policy."
McPhee-Knowles plans to use two methods to test decision-making outcomes. One will involve using software that simulates the actions of individuals to test predictions of social decision-making under a set of constraints. The other will involve using the new Experimental Decision Laboratory at the University of Saskatchewan, set to open in December 2012, to run experiments to determine how individuals respond to constraints while making decisions in a social setting.
"Sara's approach is at the cutting edge of theory and methodology applied to policy," said Peter W.B. Phillips, professor at the Johnson-Shoyama Graduate School of Public Policy and research supervisor for McPhee-Knowles. "She is an ideal candidate to advance our understanding of decision making in such difficult areas." 
In addition to working towards her PhD, McPhee-Knowles is president of the JSGS Students' Association at the U of S and a member of the research team for VALGEN, a national research project examining the barriers to science-based innovation. VALGEN is funded by Genome Canada and managed by Genome Prairie.
For more information on the project as it develops, please visit www.schoolpublicpolicy.sk.ca.
-30-
For further information please contact:
Jennifer Robertson, Communications and Marketing Specialist
Johnson Shoyama Graduate School of Public Policy
(306) 966-2663
Email:
jennifer.robertson@usask.ca