As part of the 2012 Tansley Lecture, the Johnson Shoyama Graduate School of Public Policy hosted their second annual Policy Research Poster Competition. During cocktail hour, students were asked to present posters summarizing their research activities to a panel of selected judges representing the public sector.
"I'm really excited to be recognized for my hard work," said grand prize winner and MPA candidate, Julene Restall. Restall's poster entitled, Ensuring Memorial University is Sustainable Through Funding and Demographic Shifts, looks at innovative approaches Memorial University could take to address future funding and demographic issues. "'I was encouraged by Professor Atkinson to enter my poster which I completed as part of the Higher Education Policy class." As a full-time human resources consultant at SIAST, Julene's passion for higher education extends past her experiences as a student.
In recognition of her achievement, Julene will travel to St. John's, Newfoundland in August to present her poster and research at the Institute of Public Administration of Canada's 64th Annual Conference. At this conference, a jury will rank the three best poster presentations submitted from across Canada for the Thought Leadership Award.
Students also had the opportunity to vote for their favourite poster entry in the competition. Travis Reynolds, MPP candidate, received the Student's Choice Award for his poster, Risky Business: Reputation, the Big Three, and the Subprime Mortgage Crisis. His research focused on the 2007 United States subprime mortgage crisis and the resulting financial crisis that had global impact.
"The poster competition is a great opportunity for us showcase our students' research and engage with the broader community," said Annette Marche, student experience officer. "We were very impressed by the high quality of the entries from our students and are proud to have Julene represent us at the IPAC Conference."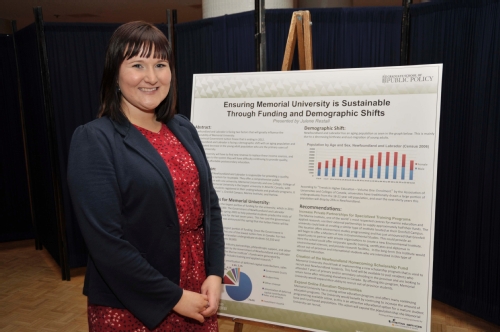 Policy Research Poster Competition winner, Julene Restall
Student's Choice winner, Travis Reynolds, with Sara McPhee-Knowles