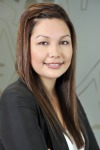 Cassandra Opikokew, PhD candidate at the Johnson-Shoyama Graduate School of Public Policy (JSGS) University of Regina campus has been awarded a Doctoral Research Award by the Canadian Institute of Health Research, totaling $108,000 over three years, to further her work on Indigenous health and education policy. In addition to her studies, Opikokew is the associate director of the Indigenous Peoples' Health Research Centre and leads the knowledge translation, policy development and strategic initiatives of the centre. Having grown up in Meadow Lake, SK, Cassandra is also a member of the Canoe Lake First Nation.
Cassandra Opikokew"I am humbled by this award, as it will allow me to gather stories and voices from our First Nations communities," says Opikokew. "Very little research exists on traditional policy-making amongst Indigenous peoples in North America prior to contact. Until the policy-making process and institutions are properly examined with an Indigenous lens and lessons are drawn from policy cases of success and failure, policymakers will continue using a policy-making system and decision-making perspective that fails to improve outcomes for Indigenous people."
According to the United Nations Human Development Index, a mechanism that measure the overall health and well-being of nations, Canada ranks just short of the top ten at 11th place. When First Nations people in Canada are isolated, they rank 63rd, or amongst Third World conditions. In the areas of health and education, Indigenous people still have lower educational attainment rates and poorer health outcomes than the rest of Canadians. In 2009, approximately 64% of First Nations students attended school on reserve, and among these students the dropout rate was 72%.
"The title of my dissertation, 'The Indian Solution to The Policy Problem', is cheeky because it turns the idea of the 'Indian problem' on its head by suggesting that it's actually poor policies and the policy-making process that create the problems," says Opikokew. "Based on my research, I want to develop an Indigenous policy-making model that acknowledges Indigenous ways of knowing".  Using an Indigenous research methodology, she will examine the policy-making process in Canada in the areas of First Nations health and education, and will conduct a comparative analysis of other countries that share a similar colonial history.
"We are very proud of the achievements of Cassandra whose work in areas of Indigenous health and education policy will benefit communities in Saskatchewan and across Canada," says Michael Atkinson, executive director of the JSGS. "This success, in addition to Cassandra's Queen Elizabeth II Scholarship awarded in 2011-12, exemplifies the top-quality research talent at the JSGS."
-30-
For more information, contact:
Erica Schindel, Communications and Marketing Specialist
Johnson-Shoyama Graduate School of Public Policy
University of Saskatchewan campus
Phone: 306-966-2663