Jen Budney, Johnson Shoyama Graduate School of Public Policy (JSGS), PhD. in Public Policy graduate, was selected to be the curator of the 2020 public art installation by Saskatoon's Placemaker Program.
Saskatoon's Placemaker Program strives to bring significance to civic spaces by selecting and installing public artworks in collaboration with the Business Improvement Districts. Having previously been a curator at the Mendel Art Gallery in Saskatoon, Budney has brought professional art experience into her research on the policies and practices of museums and their contributions to public value.
"My interest in this subject is grounded in my belief that the arts can be a powerful engine for personal and social transformation, including cross-cultural and cross-political dialogue." Budney is now bringing this expertise to three neighborhoods in Saskatoon in her role as curator for the Placemaker Program.
Saskatoon's Placemaker Program
The Placemaker Program has been running for 23 years as of March 2020. In the past, the program advertised a call for submissions and selected works to be installed in Saskatoon civic spaces. For the 2020 Placemaker Project, the program selected a curator to organize the creation and installation of three public artworks.
In 2019, Budney was selected to be the Placemaker Program's first curator. She started envisioning a project that would connect Riversdale, Downtown, and Broadway by making three visually cohesive artworks through a process of collaboration between a professional artist and community members.
Importance of Public Art
Budney is interested in how public organizations inform social norms. She also sees public art as one of the ways in which a society communicates its values.
"We have in our city all kinds of markers, all kinds of symbols of our beliefs and values. Whether it's in the design of our buildings, the layout of our roads and communities, not having bike lanes, or having them. They are not just conveniences—they are also expressions of values." 
Public art is one of the markers revealing the values of  a community. In the Placemaker project Budney has combined her expertise in both public policy and public art to help bring visibility to the values and traditions of women who are under-represented in public art and architecture.
Connection
Budney commissioned three sculptures for placement in Riversdale, Downtown, and Broadway, giving the three neighbourhoods a visual connection. The sculptures in Riversdale and Downtown were installed in the Fall of 2020, while the Broadway sculpture is scheduled for installation in Spring 2021. Budney reflected that these three areas in Saskatoon can often feel divided by the river. Placing three visually connected sculptures in these areas provide a sense of continuity and help make the areas feel more walkable.
Collaboration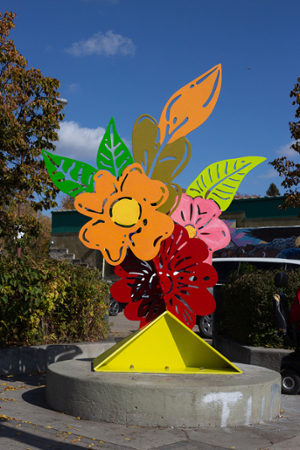 Starting from the initial planning for this project, Budney worked together with three directors of the Business Improvement Districts for Riversdale, Downtown, and Broadway, as well as with the City of Saskatoon's Manager of Community Development, Kevin Kitchen.
Budney invited two Saskatoon-based artists to collaborate to create new artworks for the project.
Ruth Cuthand is the winner of the 2020 Governor General's Award in Visual and Media Arts. She is a mixed media artist of Plains Cree and Scottish ancestry, well known for her painting, photography, beadwork, and political activism. Having worked with Cuthand in the past, Budney was interested in her ideas surrounding the project.
In search of a second artist, Budney asked the Open Door Society for help in identifying an artist with a background in traditional East African art forms. The Open Door Society introduced Budney to Suada Jailan, a professional henna artist whose family hails from Somalia, but had grown up as a refugee in Kenya.  
The two artists met to discuss the project and were drawn to the ways that both Cree and Métis beadwork and East African henna use stunning floral designs. Cuthand and Jailan decided to combine the floral designs of each of their culture's traditional arts into these three sculptures.
As the project progressed, architect and designer Henry Lau assisted in designing the sculptures in their 3D form. Once the sculptures were designed, Ryan Gross, from Riverbend Hutterite metal shop, assisted in welding the artworks in the metal shop near Waldheim.
"It's been a really collaborative project that's involved a lot of different community members," said Budney.
The collaboration involved in creating these three artworks is representative of the diverse community that the works represent.
Naming the Works: Miyawâtam/Saadat Qalbi
The collaboration between Ruth Cuthand and Suada Jailan is evident in the title of the three works, Miyawâtam/Saadat Qalbi 1, 2, and 3. Budney states, "They wanted to use their family languages for it to be symbolic of this coming together of two different cultural traditions."
Translated from Cree, Miyawâtam means "they are joyful or fun-loving." Translated from Arabic, Saadat Qalbi means "happiness of the heart." The artists hope that their bright, culturally inspired, floral sculptures will be a joyful and happy presence in Riversdale, Downtown, and Broadway.
Floral Motifs Across Cultures
Floral motifs are associated with traditions and rituals in many cultures. Budney describes that beading is often a significant social and cultural activity between women. The conversations that are had while beading build support between women and bring joy. Also, when henna is applied to a woman's arm before she gets married, the artist becomes a part of reproducing and sustaining cultural traditions, as well as participating in the communal process of initiation into married life.
"That is part of sustaining a culture. These kinds of craft traditions are an important part of sustaining a culture and keeping it vibrant and alive and helping it to evolve over time."
The plaques displayed alongside Miyawâtam/Saadat Qalbi 1, 2, and 3 will display quotes from both the artists. Ruth Cuthand's reads, "I've been thinking about women and joy. The joy that comes from family. The joy that comes from the beauty of women's handwork, whether it is used to decorate clothing or bodies. I hope Saskatoon finds joy in all the seasons of the year."
Suada Jailan said, "Women, like flowers, deserve to be honoured." These quotes are displayed on plaques near the sculptures to spread the joyful message of these pieces.
Social Significance
Budney sees a link between these artworks and the values Saskatoon reflects to its residents. "The particular work traditions that these women are referencing in their sculpture is not just decorative."
We don't always see proof of funding or policy making that supports nurturing labour or cultural traditions. "If we do not have symbols that express that we value Indigenous women, that we value immigrant women, we won't be motivated as a society to embrace the directives of reconciliation, of multiculturalism, of those kinds of policies that are designed to keep and make this a more democratic system."
These sculptures act as a symbol of Saskatoon's support for policies upholding reconciliation and multiculturalism. The installation of Miyawâtam/Saadat Qalbi 1, 2, and 3 is one way that Saskatoon can visibly show support for traditions of multiple cultures and take pride in our spirit of collaboration.
View these three public artworks by Ruth Cuthand, Suada Jailan, and curated by Jen Budney as they are installed:
Miyawâtam/Saadat Qalbi 1 : Will be installed summer 2021 in the Broadway Business Improvement District at Main Street and Broadway Avenue
Miyawâtam/Saadat Qalbi 2: Currently installed in Riversdale at 602 20th Street West
Miyawâtam/Saadat Qalbi 3: Currently installed in the Downtown Business Improvement District at 241 Second Avenue.