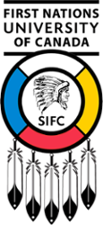 SASKATOON – The Johnson Shoyama Graduate School of Public Policy (JSGS) at the University of Regina (U of R) and the University of Saskatchewan (USask) has partnered with the First Nations University of Canada (FNUniv) to offer a new Graduate Certificate in Indigenous Nation-Building.

Announced on National Indigenous Peoples' Day, the certificate program will be offered to leaders from across Canada through a combination of online classes and an in-person residency.
Taught by faculty members from FNUniv and JSGS, students will learn about traditional and contemporary Indigenous governance and worldviews. They will also explore the impact of colonialism on political, social, and economic institutions and developments in Indigenous communities, and the role of Indigenous self-governance and self-determination in transforming economic, social, health, and environmental outcomes.
The certificate includes three-graduate level classes and a three-day in-person community residency where students will share knowledge and best practices, build networks and learn from the Old Ones, Elders, and Knowledge Keepers.
Individuals can visit www.schoolofpublicpolicy.sk.ca for more information about this new certificate, and to learn about other related programs such as the kiskēyihtamowina Board Governance Program, offered in partnership with FNUniv.
QUOTES:
"JSGS and FNUniv have worked together for many years to support emerging leaders and community capacity through our programs and research partnerships. With this new graduate certificate, we are expanding opportunities for Indigenous leaders and other public servants to learn about Indigenous governance practices, values, and systems to support the rebuilding of nations."
Dr. Loleen Berdahl (PhD), Executive Director, Johnson Shoyama Graduate School of Public Policy
"The Graduate Certificate in Indigenous Nation-Building aligns with the vision of the FNUniv, "to have transformative impact". Transformative reformation is needed, not only in Indigenous communities but also across many segments of Canadian society. This change will be led by current and emerging change agents equipped with knowledge and understanding of Indigenous governance systems based on Indigenous worldviews and goals. FNUniv and our post-secondary education partners will facilitate the requisite knowledge development."
Dr. Bob Kayseas (PhD), Vice-President Academic, First Nations University of Canada
"Settler colonialism strategically worked to erase Indigenous nationhood but the strength and perseverance of our ancestors is manifesting through the Indigenous resurgence of nation-building that combines the traditional value of kinship and interdependence with Indigenous contemporary realities and futurity. Education is said to be our new buffalo and it is beautiful to see the FNUniv and JSGS come together to create an opportunity for Indigenous nation-building into the future."
Lori Campbell, Associate Vice-President, Indigenous Engagement at the University of Regina
"There has been a tremendous amount of development and innovation in governance practices by First Nations and Métis peoples in Saskatchewan. It is wonderful to see instances where partnerships and programs, like this, are making these educational opportunities accessible to current and future leaders."
Dr. Angela Jaime (PhD), Interim Vice-Provost, Indigenous Engagement, University of Saskatchewan
"Rebuilding Indigenous Nations requires effective governance systems that are built upon our natural laws, languages, cultures, and customs. Building bridges between these systems and western frameworks of Canada is achievable and starts with full recognition of Indigenous rights to self-determination. Reconciliation demands reciprocity where we work together to achieve better social, economic, and environmental outcomes through strong governance. The FNUniv and JSGS have a history of collaborating on unique programs that not only empower indigenous knowledge systems but help to shift paradigms within western thought."
Edmund Bellegarde (MBA, Pro.Dir), President & CEO, FHQ eCommerce Ltd. and Certificate Program Co-Instructor
-30-
For more information, contact:
Erica Schindel, JSGS Communication and Marketing Manager
306-966-2663
erica.schindel@usask.ca

Bonnie Rockthunder, Senior Communications Officer
First Nations University of Canada
​204.292.3253
comm@firstnationsuniversity.ca