The first step always takes a little confidence.
When the Johnson-Shoyama Graduate School of Public Policy Alumni Association (JSGSAA) piloted a mentorship program earlier this year, its main goal was to support current students and help them enter the labour market with knowledge and confidence.
That has clearly worked for Yuan Yuan Zhang, who graduated this spring with a Master of Public Administration (MPA) from the JSGS University of Regina campus. Zhang is now employed with the Saskatchewan Ministry of Justice as a privacy consultant.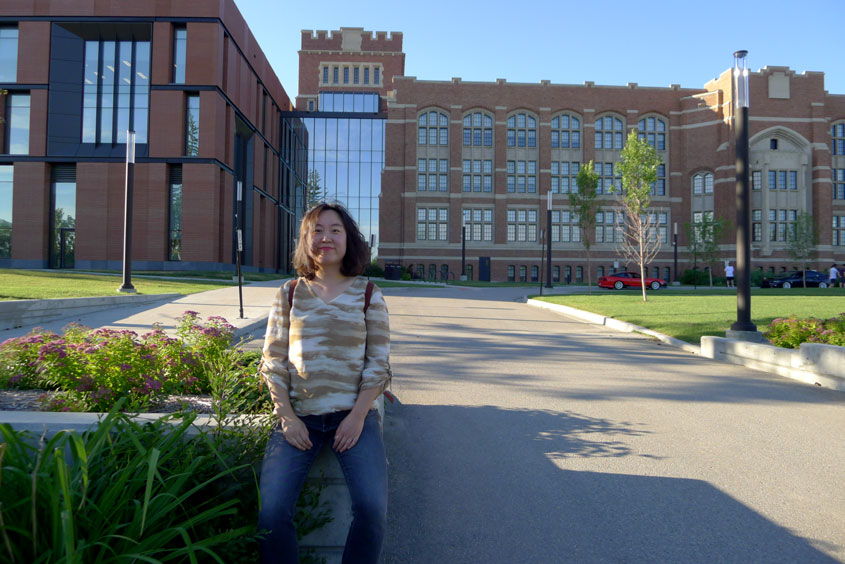 She was well into her JSGS internship with the government when the mentorship program started in early 2022.
"I was close to the end of my internship and looking for a job," Zhang said. "I was looking for some help on my interview skills and to broaden my network."
The JSGS internship program, which matches students with government departments, provided great benefits, "but if you can broaden your network, it is beneficial," Zhang said.
Zhang was matched with Jeff Bassendowski (MPA'10), director, planning, reporting and accountability, Ministry of Immigration and Career Training for the Saskatchewan government.
"He was a great match for me," she said. "He had a lot of experience working with the interns and knows exactly what we need."
Bassendowski coached her in interview skills and provided information about the value of strategic priorities, accountability and an understanding of policies and procedures.
"He provided a lot of guidance and advice and it was very helpful," she said. "I'm really grateful for this opportunity."
The pilot program had been under discussion for more than two years when Derrick Lepine (MPA'15) joined the JSGSAA. Following in the footsteps of Aaron Wirth, who conceptualized it, Lepine took over as organizer and brought it to reality.
"It was a really good fit for the mandate of the alumni association, thinking about how do we build good connections with alumni and the school, how do we stay involved, and how do we support the current student population," Lepine said.
"We talked to the school, and they thought this program aligned with their own strategic priorities. It met several purposes and was a really successful launch of the pilot program."
As the director of labour market intergovernmental with the Ministry of Immigration and Career Training for the Government of Saskatchewan, Lepine felt the mentorship program role was a good fit with his own background.
"That's why I put my hand up to be involved," he said.
School Support Strong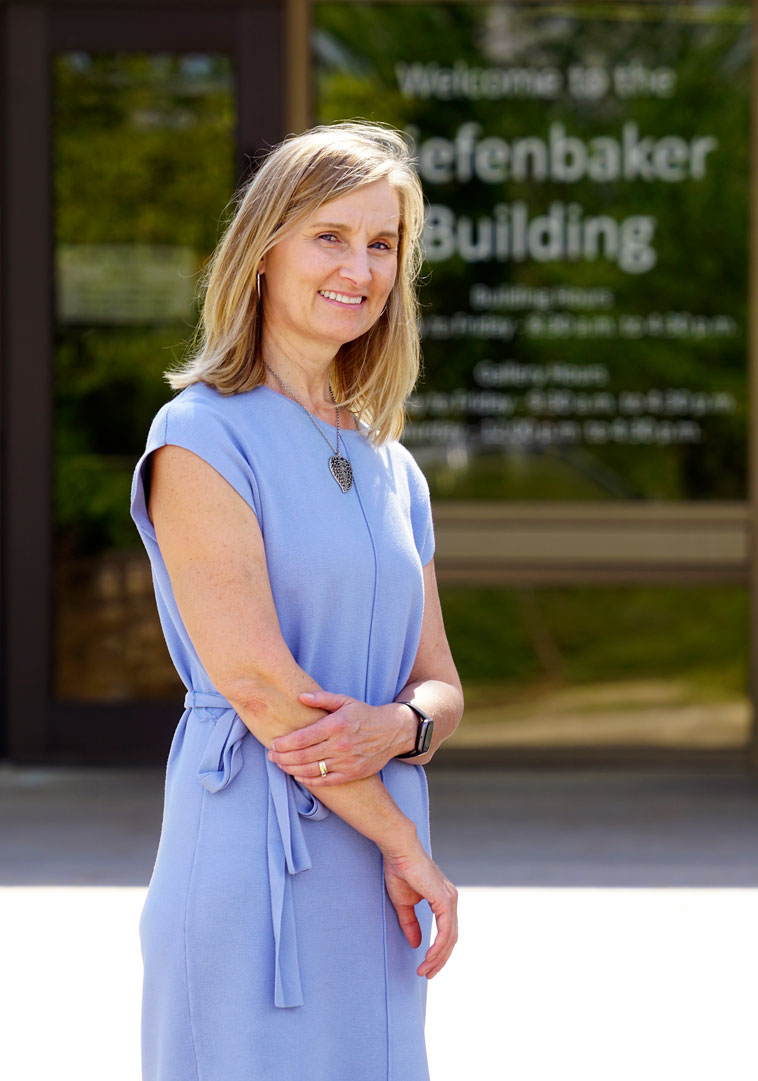 Dr. Loleen Berdahl (PhD), JSGS executive director, was thrilled to see the program instigated and designed by the alumni association.
"We've been supportive and working with them, but it was their initiative. It really speaks to how alumni, when they have a strong tie to a program or to a unit, want to see the success of future students. I found that really exciting.
"It's such an incredible opportunity for our students and really speaks to the sense of community that we've been able to build at the school. I couldn't be happier about it."
She noted that the participant survey results were very positive, as were comments she has heard from students.
"At convocation, we had a pinning ceremony for our graduates in the morning," Berdahl said. "The students who participated talked about how incredible that opportunity was, because it's personal; it's a personal relationship. They felt they were seen, and their career was being seen as important to someone much further up, and that's very affirming."
The program also came in a milestone year for JSGS, she added.
"It's the 15th year for the JSGS and we have a good 1,400-plus alumni now, and it's just incredible to see where our graduates have ended up and where our alumni are making a difference across Canada and around the world."
How it came together
The program launched in January 2022 and matched mentors and mentees for three months, Lepine said, adding that the JSGSAA hopes to make the program permanent.
"Before that, we'd been working on it for a while and developing the application forms and figuring out how to match mentors and mentees and a guidebook and all those kinds of resources."
The JSGSAA put out an open call for interested students and linked them with trusted advisers working in the public sector at senior levels. Nineteen students were chosen, and the association members shoulder-tapped alumni they felt would be good fits.
Those alumni included deputy ministers and directors in the governments of Saskatchewan and Alberta, the federal government and Farm Credit Canada.
As to the parameters, Lepine said they left it up to the mentees and mentors to decide what they wanted to achieve.
"What do we want to get out of this? Do you want to build a certain skill set or are you looking to get advice? They set those goals themselves at the start."
Mentorship important for students, public service
For at least one of the mentors, the program held additional importance on a wider societal level.
"The labour market is so tight nowadays," said Kristin Ward Diaz (MPA'12), executive director of the workforce policy branch, Public Service Commission, for the Government of Alberta.
"We're competing with many, many different governments, private sector, you name it; it's pretty fierce. I've taken the opportunity to think about how I can support others to come and work for the Government of Alberta and see what we have to offer. And JSGS has lots of really good talent."
Among many responsibilities, Ward Diaz is engaged in broader workforce policy specific to talent acquisition and the competencies needed in government, so she knows whereof she speaks.
She was also motivated by simply helping an up-and-coming public administrator, something she does regularly.
"I spend a lot of time mentoring," she said. "This came up, and I thought it would be great to give back . . . to support the students and faculty on what it's like to work in government these days."
Bassendowski also came on board as a mentor partly because he sees the need to develop the next group of senior government leaders.
He's already engaged in that process, having been heavily involved in the JSGS internship program for the last seven years. He also sees it as giving back something of what he has received.
"Mentorship has always been a really key component in my career path," he said.
"I've been very fortunate . . . to have accessible coaches and mentors throughout the last dozen years. I really endeavour to pass that kind of knowledge on.
"Helping develop that new group and seeing them move from students to interns to senior level professionals is a very rewarding experience because you've played a small role in that."
Indeed, he noted, a number of JSGS graduates have come to the Saskatchewan government and stayed.
"This mentorship is another pipeline for talent, for coaching and mentoring people up and a bigger talent pool for us going forward.
"The biggest value for the internship is it gives students trying to move to the workforce that bridge between education and employment."
Program helpful in career planning
Emma James, who graduated with her MPA, was Ward Diaz's mentee. James is studying via the JSGS online program — which she calls "outstanding" — and has a special interest in equity policy and inclusion.
"Particularly in light of COVID, it's been interesting to grapple with what the future of work will look like," James said. "To be able to discuss in real time what kind of challenges there are . . . has been very interesting.
"It's also been helpful in terms of career planning, too. Everything is so much less certain (in the COVID era).
"I've been very fortunate with Kristin. We've had a number of discussions about what career options might be the best fit for me and what aspects I'm really interested in, but also expanding to consider other career positions that don't necessarily immediately come to mind.
"To be able to explore that has been fantastic and incredibly helpful. The Alumni Association did an absolutely outstanding job in matching us."