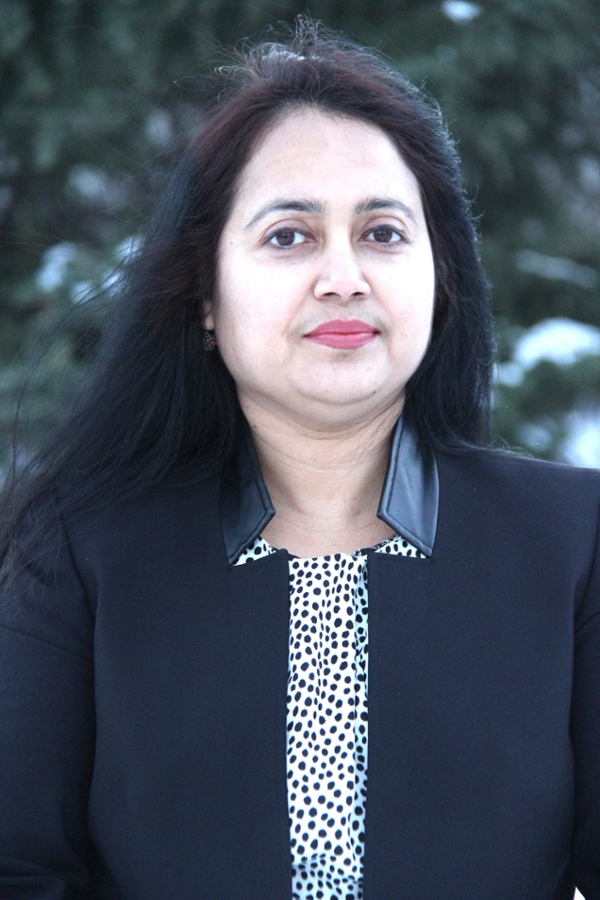 Jebunnessa Chapola came to Canada from Bangladesh almost two decades ago, a self-described racialized woman who immigrated "from one colonial land to another colonial land."
Since her arrival, she has dedicated herself to making connections with her own immigrant community, as well as Indigenous, immigrant, and refugee women using various means — including her radio program with Saskatoon's CFCR community station and through volunteering, such as with the Saskatoon Community Garden.
Now holding a PhD, she continues this work at a different level as a postdoctoral fellow with the University of Regina, working under Dr. Margot Hurlbert, a professor and Canada Research Chair in the Johnson Shoyama Graduate School of Public Policy (JSGS).
Dr. Hurlburt's work explores the gap between what is needed to address climate change and current policy and behaviour. Dr. Hurlbert's scholarship concerns climate change adaptation and mitigation, energy, Indigenous peoples, water, droughts, floods, water governance, and sustainability. 
Following her doctoral dissertation based on her own journey, Chapola is now plunging into the complexity of climate change and its effects on racialized and marginalized women.
Her new research work, entitled Women-led Climate Change Solutions (WCCS): Developing A Policy Guide from Indigenous and Immigrants' Perspectives, comes at the perfect time. It will help inform a massive undertaking at JSGS: the Governing Sustainable Municipalities Project.
In turn, the project addresses the Government of Saskatchewan's goals, which include economic and population growth, Indigenous participation, and climate change strategy.
"What the government is trying to do is reduce carbon and GHG emissions in extracting industries to supply the food, fuel and fertilizer to serve the world's needs," Chapola says. "But more needs to be done."
"I'm an anti-racist decolonial feminist and that is what my PhD work was about. I am focusing on women-led climate change solutions."
Chapola's work dovetails with one of JSGS's primary project questions: How can municipal sustainability initiatives engage underserved groups, particularly Indigenous peoples, racialized people, LGBTQ2S+ people, and people with disabilities?
The project, detailed in several specific briefs, is based on the premises that sustainable development benefits society, the environment, and the economy; and that municipalities have the authority to undertake and support sustainability initiatives. How these goals can be achieved are at the basis of the project.
Chapola's study has three related objectives:
To create Women-led Community Climate Solutions Spaces based on equity principles that foster community resiliency to climate change;

To address climate change risks and women's related vulnerabilities;
To provide recommendations for creating socially inclusive climate policies at local, provincial, and federal levels.
Chapola notes that Indigenous, new immigrant, and refugee women — here and everywhere — are economically more vulnerable to climate change. Simply put, Chapola says, society must connect more closely with the land.
She began her research on how to achieve this goal by collecting the stories of Indigenous, immigrant, and refugee women. 
"Indigenous women live close to the land. The way their lives have been impacted by climate change is different from racialized women," Chapola said.
Chapola hears about the lack of clean, safe drinking water, and how their culture and spirituality are closely connected to the land; but these are not being sufficiently valued.
Most racialized women she has interviewed say climate change has not directly affected their lives because they generally live in cities with safe drinking water and accessible energy. However, Chapola says, their migration is often for reasons of climate change, as well as war or other social reasons.
"A lot of factors are involved; but in a simple way, I would say it is high time for us to understand, what is the meaning of land and water? It's for the betterment of all of us."
"Learning from Indigenous, new immigrant, and refugee women in our communities is essential if we are going to address climate change and achieve our goals," Chapola said.
Chapola's PhD dissertation is entitled 'A racialized settler woman's transformative journey in Canada: Building relational accountabilities' and can be found here: https://harvest.usask.ca/handle/10388/14135.