Long-time member of the political studies department at the University of Saskatchewan and currently Senior Policy Fellow at the Johnson-Shoyama Graduate School of Public Policy, John Courtney was awarded the Mildred A. Schwartz Lifetime Achievement Award by the American Political Science Association on September 1 in Seattle.
The award was established to recognize "scholarship and leadership in bringing the study of Canadian Politics to the international political science community."
"It is a privilege to have received this award named in honour of a distinguished American political scientist whose contribution to her discipline has been outstanding," said Professor Courtney. "The award serves to remind Canadians how the world's leading political science association has taken great strides recently to recognize contributions to the discipline of non-Americans."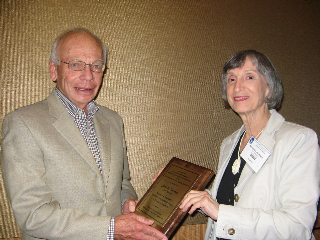 Left to Right: John Courtney and
Mildred A. Schwartz
A world-renowned expert on electoral democracy, John Courtney has received the Distinguished Researcher Award and an earned DLitt from the University of Saskatchewan.  He holds a PhD and MA from Duke University, an MBA from the University of Western Ontario and a BA from the University of Manitoba.  His areas of research include Canadian and comparative parties and elections; electoral reform, electoral systems and electoral administration; franchise and voter registrations; and party conventions and leadership selection.
Professor Courtney is the author, co-author or editor of ten scholarly volumes plus numerous articles. In addition, he has written many reports for government agencies, both in Canada and abroad, recommending policy changes with respect to electoral systems.
In addition to consulting for the United Nations in Kenya and CIDA in Bolivia, Professor Courtney has served as a Canada-US Fulbright Scholar at The Brookings Institution in Washington, D.C.; a Halbert Visiting Professor of Political Science and Canadian Studies, Hebrew University of Jerusalem; a William Lyon Mackenzie King Visiting Professor in Canadian Studies, Harvard University; and a Visiting Professor of Canadian Studies, Philipps-University, Marburg, Germany.