Comparative policy studies compare and contrast public policy making across sectoral, regional and national boundaries. That being said, scholars often face a number of methodological challenges when comparing public policies, the central challenge being to define the object of comparison. 
In a new article, "Toward a Comparative Measure of Climate Policy Output", published in the Policy Studies Journal, JSGS postdoctoral visiting scholar Sebastian Sewerin and colleagues Andre Schaffrin and Sibylle Seubert from the University of Cologne, propose a new methodology they hope will produce comparable data of policy outputs that is more coherent, comparable and accessible. 
Sewerin and co-authors propose using a refined set of measures to analyze and weigh various policy instruments (e.g., regulations, financial incentives and/or voluntary measures) on an Index of Policy Activity.  These measures include the density (or number of) and the intensity (e.g., objectives, scope, integration, budget, implementation and monitoring) of the instruments.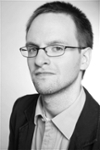 Sebastian Sewerin
A further application of this new measurement approach was published in Environmental Politics late last year. In the article "The Innovativeness of National Policy Portfolios – Climate Policy Change in Austria, Germany, and the UK", Sewerin and co-authors investigated policy portfolio changes in the energy production sector in Austria, Germany and the United Kingdom, from 1998 to 2010. Their research found that the Index of Climate Policy Activity provides a reliable and valid measurement of national policy output that can be applied for comparative analyses in a number of areas. These include the innovativeness of policy portfolios, changing patterns of instrument use, or shifts in governance modes.
"Through our research, we are trying to determine whether innovations in policy concerning climate-change mitigation are symbolic or truly radical in the sense of 'tipping' existing policy portfolios towards a new instrumental logic," says Sewerin.
Sewerin and co-authors concluded that although some energy policies in Austria are symbolically innovative, a closer inspection reveals that its overall policy outputs are more mainstream (i.e., not innovative). This is contrary to both Germany and the UK, where governments have taken policy innovation more seriously and policy innovations are stronger (i.e., sense that they have more ambitious objectives, a larger scope and stronger implementation and monitoring).
Sewerin is now working with JSGS Professor Jeremy Rayner to apply this methodology to a new project that compares Canadian and Australian energy policy with the European countries in the original study, and is studying and investigating the role of policy strategies.
"There's a widely held perception that Canada currently lacks a coherent federal energy policy and would benefit from having one," says Rayner. "This ground-breaking study will support evidence-based decision-making in energy policy: is the current policy outdated and does the experience of other countries support the belief that strategic direction is needed to bring about policy innovation?"