The 2013 Triple Helix Conference, held in London, England and organized by the Big Innovation Centre, focused on the theme of "The Triple Helix in a context of global change: continuing, mutating, or unravelling?" JSGS PhD candidate, Sara McPhee-Knowles, presented during a panel discussion on intermediaries that promote open innovation by main actors of the Triple Helix.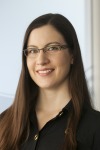 McPhee-Knowles' paper, co-authored with her colleague Bill Boland, a PhD candidate in Political Science, focused on the Policy Shop, a student-organized initiative that provides pro bono policy consulting to community-based organizations. Their paper, "The Policy Shop: Innovation, Partnerships and Capacity-building," discusses the role of the student-run Policy Shop as an innovation broker that links third sector organizations to the Triple Helix of university, government and industry.  This was a novel application of the Triple Helix theory, which normally focuses on technology transfer between the universities, government and industry.
"Attending the Triple Helix Conference gave me the opportunity to network with scholars from a wide variety of disciplines and to discuss the Policy Shop, which is a unique innovation among policy schools, with these new colleagues. Thanks to this experience I have learned of similar innovation brokers that we could compare our initiative to and add to our research," said McPhee-Knowles.
Support for Sara's trip was provided by the JSGS, the University of Saskatchewan College of Graduate Studies and Research, and VALGEN.